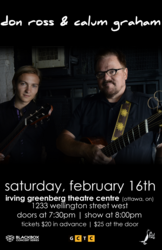 Window of Opportunity
Friday February 7th, 2014 with Trish Murray with co-host Derek DeBeer
Interviews with David Myles, Calum Graham and Del Barber
Derek DeBeer will co-host with me! Derek, formerly the drummer of renowned band Savuka, now living and teaching drumming in Ottawa.
www.deBeer.ca
Interview with David Myles. He's playing at the NAC 4th Stage on Feb. 15th. Sold Out Show! Interview with Calum Graham who is performing in concert with Don Ross at the Irving Greenburg Centre on Feb. 16th. Tickets thru
www.blackboxseries.ca
Interview with Del Barber, from Manitoba, who is playing at The Branch in Kemptville Feb. 7th and up at the Blacksheep Inn in Wakefield on Feb. 8th. At the Blacksheep also on the bill are Scarlett Jane and Don Brownrigg.
Keep a Fire in the Rain
Amanda Rheaume - Keep a Fire

Change My Mind
David Myles - In The Nighttime


So Blind
David Myles - In The Nighttime


Phoenix Rising
Calum Graham - Phoenix Rising

Hey Ya (Outkast Cover)
Calum Graham - .

Yellowhead Road
Del Barber - Prairieography


Big Smoke
Del Barber - Prairieography