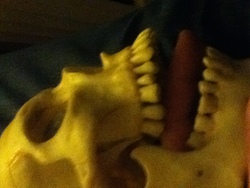 The Dylan Hunter Show
Friday October 9th, 2015 with Dylan Hunter
ICAMEUPTHESTAIRSTWODOLLARSSHORTWITHAFISTFULOFYEASTANDNOGOODEXCUSES
BLACK ISN'T BLACK
THE BLACK ANGELS - INDIGO MEADOW
WORM TAMER
GRINDERMAN - WORM TAMER EP
NO WILL
WHITE HILLS - WALKS FOR MOTORISTS

BELA LUGOSI'S DEAD
BAUHAUS - BELA LUGOSI'S DEAD 12' SINGLE
CHANGE YOUR LIFE
PHYCUS - "X" (GOLD ALBUM) 3 LP RELEASE

FANCULO NEOISMO
PHYCUS - "X" (RED ALBUM)

FLASHBACK
MINISTRY - THE LAND OF RAPE AND HONEY
TOMORROW IT SHOULD BE FINE
H. DE HEUTZ - STUDY FOR VIOLENCE AND TAPE (HDEHEUTZ.BANDCAMP.COM)

MAMA TAUGHT ME BETTER
BLACK REBEL MOTORCYCLE CLUB - BEAT THE DEVIL'S TATTOO
QUEEN OF THE DAMNED
MOTORHEAD - AFTERSHOCK
HEAVY LOADED
THE SCAT RAG BOOSTERS - VA NOTHING BEATS A ROYAL FLUSH

NEW KIND OF KICK
THE CRAMPS - BAD MUSIC FOR BAD PEOPLE
CHANGE YOUR WAYS
KETAMINES - ELEVEN ELEVEN 7" EP

YOUR FACE IS IN MY MIND
THE 14TH WRAY - VA TIME MACHINE: THE HISTORY OF CANADIAN OF 60'S GARAGE PUNK & SURF 1985-1995 - 1996

JUST IN CASE YOU WONDER
THE FIENDS - VA NOTHING BEATS A ROYAL FLUSH
25 O'CLOCK
THE DUKES OF STRATOSPHERE - VA CHILDREN OF NUGGETS (4 CD RELEASE) - 2005 RHINO RECORDS
FACE A L'INSTANT III
AVEC LE SOLEIL SORTANT DE SA BOUCHE - ZUBBERDUST!

I MISS MY CHICK
BRANT BJORK - KEEP COOL - 2003
MARQUEE MOON
TELEVISION - MARQUEE MOON - 1977
DAMAGED GOODS
GANG OF FOUR - ENTERTAINMENT! - 1979
WADING THROUGH A VENTILATOR
THE SOFT BOYS - VA CHILDREN OF NUGGETS
BAD NEWS TRAVELS FAST
THE FUZZTONES - VA CHILDREN OF NUGGETS
WATCH THAT WOMAN
WEAPONS OF MASS SEDUCTION - THANK YOU FOR YOUR DAUGHTERS - 2004 MUSIC FOR CATS

L.A. NAILS
THE SWEET JANES - 7"

SEE YOU IN HULL
THE NEW SWEARS - FUNNY ISN'T REAL

I'LL TAKE YOU ANYWHERE
THE STEVE ADAMYK BAND - THE STEVE ADAMYK BAND - 2010 DEAD BROKE

NEU SUDAN
THE BAND WHOSE NAME IS A SYMBOL - SCRAPPY LITTLE JAW - 2012 BIRDMAN SOUND

I FEEL LOVE
DONNA SUMMER - I FEEL LOVE - 1977