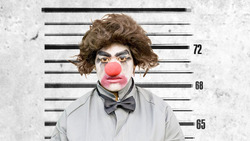 The Dylan Hunter Show
Friday April 3rd, 2015 with PeterB
Two hours of uneasy listening. Music for pinheads, by pinheads!
PeterB fills in today, with mucho music for a well mis-spent youth. Mostly mine. And ample weirdness and dubious transitions to keep you off balance for your uneasy listening pleasure. Even some apocalypse, space travel, and angry clowns. Sorry, no zombies; maybe next time. Fasten your seatbelts! AND TURN IT UP!!
Let the mayhem begin. Music for well mis-spent youth!
21st Century Schizoid Man / Mirrors
King Crimson - In the Court of the Crimson King
In C
Acid Mothers Temple & The Melting Paraiso UFO - In C / In E
Cosmos Shiva
Nina Hagen - NUNSEXMONKROCK
Bankel Rap
Holger Czukay - Der Osten Ist Rot [The East Is Red]
Astral Plane
The Modern Lovers - The Modern Lovers
Time for some destruction and revolution. Starting with destruction of otherwise classic tunage…
Rocket Man
William Shatner - YouTube

Children
Roberta Bondar - Caustic EP

-newscast-
Five Alarm Funk - ABANDONEARTH

Robot
Five Alarm Funk - ABANDONEARTH

Horrible Sound
Five Alarm Funk - ABANDONEARTH

Flouridation
Stanley Kubrick / Peter Sellers / Sterling Hayden - Dr Strangelove
Crazy Clown Time
David Lynch - Crazy Clown Time
Strange and Unproductive Thinking
David Lynch - Crazy Clown Time
Charles Manson interview
Charles Manson - YouTube
Helter Skelter
The Beatles - White Album
Revolution 9
The Beatles - White Album
Good Night
The Beatles - White Album
And now, some off-the-wall Krautrock, experimental and electro, from way back when …
I Want More
Can - Deutsche Elektronische Musik: Experimental German Rock And Electronic Music 1972-83
Rambo Zambo
Kollectiv - Deutsche Elektronische Musik: Experimental German Rock And Electronic Music 1972-83
My Way
Nina Hagen - In Ekstasy
No Man's Land
Tangerine Dream - Deutsche Elektronische Musik: Experimental German Rock And Electronic Music 1972-83