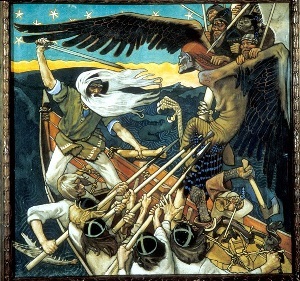 Infinite Ceiling
Thursday February 28th, 2019 with mark
Happy Kalevala Day: Finnish cultural holiday. Music from Finland. Tracks from Kalevala, Raoul Björkenheim-Krakatau, Circle, Taipuva Luotisuora, Alamaailman Vasarat, Snekka, Haikara, Hadal Sherpa, Moonwagon, The Giant Hogweed Orchestra, Kingston Wall
Holiday marking the anniversary of the publication of Kalevala, the Finnish national epic compiled from Finnish and Karelian folklore and mythology by Elias Lönnrot (1802-1884).
Myrskyä pakoon
Kalevala - Pop-Liisa 7/8 - Svart
Foot Talk
Raoul Björkenheim-Krakatau - Ritual - Cuneiform
Out of the Chrysalis
Taipuva Luotisuora - Taipuva Luotisuora II - UUU Records
Paholaisratsastaja
Circle - Sunrise - Ektro Records
Kivitetty Saatana
Alamaailman Vasarat - Käärmelautakunta - Silence
Strehenbaum
Snekka - mot. - Folk Music Institute
-- set break --
Manala
Haikara - Haikara - Universum
Marracech
Hadal Sherpa - Hadal Sherpa - Independent
Dawnwind
Moonwagon - Foyers Of The Future - Presence Records
-- set break --
Spirals
The Giant Hogweed Orchestra - The Giant Hogweed Orchestra - Mellow
You
Kingston Wall - II - Zen Garden