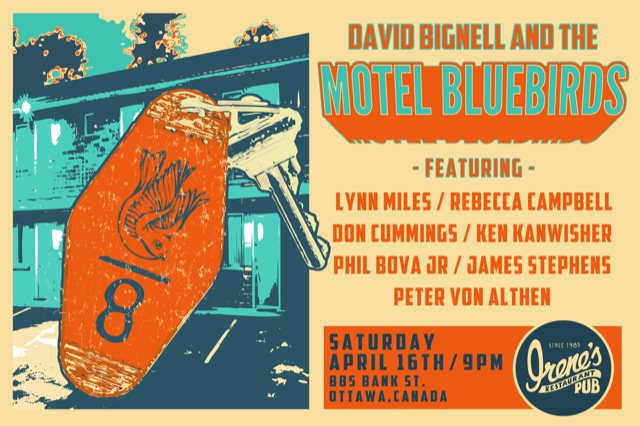 The Guest List
Thursday April 14th, 2022 with Joe Reilly
Interviews with Dave Bignell about The Motel Bluebirds at Irenes on Saturday and Miss Maureen about Good2Go's show at the Rainbow tonight (Thursday)
First up on the show today we check in with one of our favs, Dave Bignell about his new musical project The Motel Bluebirds and the group's gig this Saturday night (April 16th) at Irene's Pub. Dave tells us about the amazing lineup of great musicians in the group, including Lynn Miles, Rebecca Campbell, James Stephens, Don Cummings, Ken Kanwisher, Phil Bova Jr. and Peter Von Althen. He tells us about the great new song, Golden, the first released by the group. Here is information on the Irene's concert:
https://irenes-pub-restaurant.myshopify.com/blogs/live-music/live-music
Then we check in with Miss Maureen, the lead vocalist for local band Good2Go. The band is really excited to be bringing its kick ass rock'n'roll music to the stage again tonight (Thursday, April 14th) at the Rainbow along with the Bush Pilots. Maureen tells us how much everyone has missed performing and how easy it has been to get back into the groove with her bandmates. Here is ticket information for this concert:
https://therainbow.ca/events
We tried to line up a couple of other interviews but they didn't work out. So we play some music from the Snotty Nose Rez Kids (at Club SAW on Friday night, April 15th) and Tennyson (also at Club SAW on Saturday, April 16th.)
https://www.ticketweb.ca/event/snotty-nose-rez-kids-club-saw-tickets/11599165?pl=spectrasonic
https://www.ticketweb.ca/event/tennyson-frown-line-neurotypes-club-saw-tickets/11530295?pl=spectrasonic
And we play a piece by Iceland's Olafur Arnalds who is appearing at the Algonquin Commons Theatre on May 30th.
https://www.ticketmaster.ca/event/31005ADEE5E61E68?CAMEFROM=CFC_SSONIC_TW
Get out and see some live music this week.
Golden
Dave Bignell and The Motel Bluebirds - Golden (single)


Messin'
Good2Go - C'Mon

Day Today
Good2Go - C'Mon

Bully Mode
Snotty Nose Rez Kids - Life After

Grave Digger
Snotty Nose Rez Kids - Life After

Torn
Tennyson - Rot


Iron
Tennyson - Rot


Re:Member
Olafur Arnalds - Re:Member