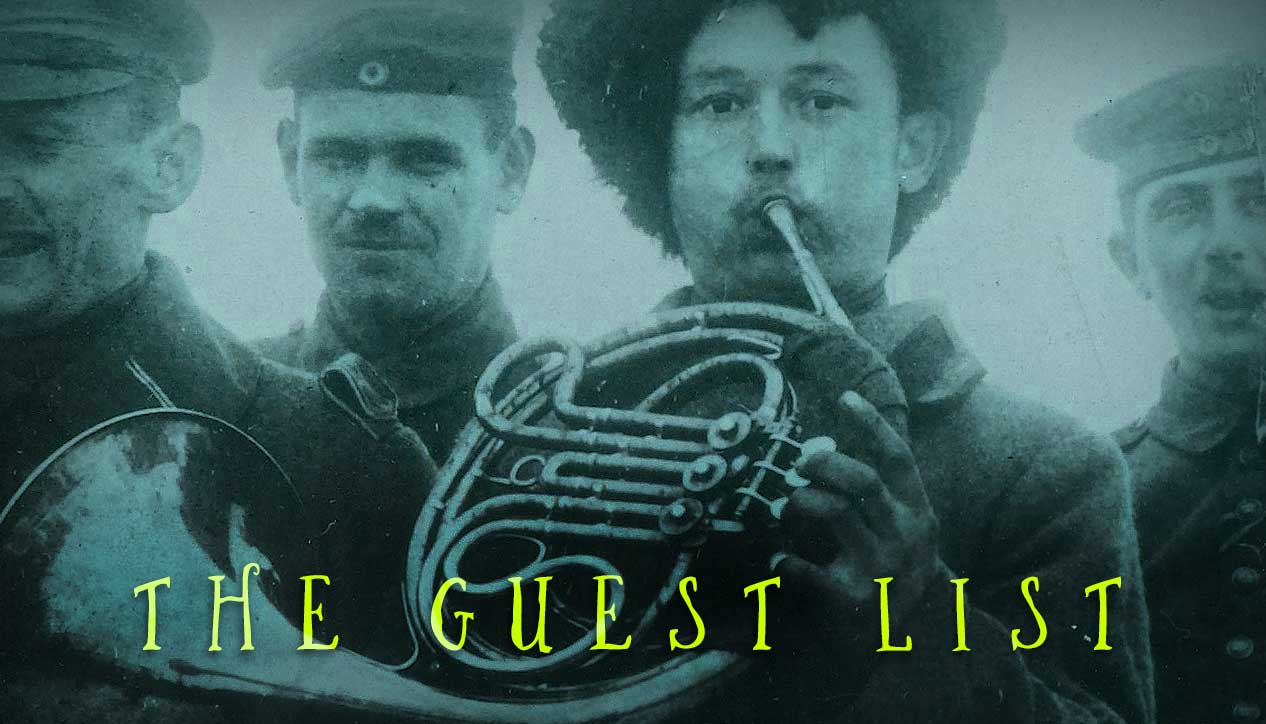 The Guest List
Thursday September 26th, 2019 with Joe Reilly
Interviews with Jordon of Blinker the Star, Don of Collapsing Scenery and Jonathan from Fly Pan Am
A wonderfully whacky show today as we listen to great music and cope with wonky cell phone lines and band's with dead cell phone batteries... you never know what will happen when you're on the Guest List. We open with a great conversation with Jordon Zadorozny of Blinker the Star. We talk to Jordon about what happened at the front end of his music career when he was heralded as a new boy wonder and how things have evolved over the past 20 years. He now spends most of his time creating his own music in the studio and producing albums for others and less time on the road touring to support his music. We discuss the process of making albums by himself and putting them out to the world and then how he puts together a band to bring it to life in the live setting. You can see Jordon and Blinker the Star (the 2019 version) at the 27 Club in Ottawa on Friday night, September 27.
https://www.spectrasonic.com/event/1874108-blinker-star-ottawa/
https://www.facebook.com/blinkerthestar/
https://blinkerthestar.bandcamp.com/
Next up we endeavour to connect with Jonathan Parant of Fly Pan Am. We finally do hear from him at the tail end of the show for just a couple of minutes.. as I was about to play something by the band Woolworm ... sorry about that Woolworm. Fly Pan Am is an amazing experimental group from Montreal with several albums out on the Constellation label. Jonathan explains how all of the member's varied influences come together in the group's far-reaching sound in a brief conversation. You can see Fly Pan Am at the 27 Club on Saturday night, September 28.
https://www.spectrasonic.com/event/1872191-fly-pan-am-ottawa/
http://cstrecords.com/artist/fly-pan-am/
We also try to talk to Don De Vore of Collapsing Scenery about his group's amazing new album, Stress Positions. Unfortunately we were dogged by a very bad cell line as Don was on the road and moving during the interview. We do hear him talk a bit about the inspiration for the piece Sisyphus of the Negev and while it was written about Bedouin Arab people living in Israel - elements of the song certainly seem to apply to the situation faced by Indigenous people living on reserves in Canada. Don explains that he has figured out how to bring this music to life in concert but we had to let him go as the line was simply too bad. You can see and hear how the band does it live when Collapsing Scenery appears at Club SAW on Tuesday, October 1.
https://www.spectrasonic.com/event/1884881-ceremony-ottawa/
http://www.collapsingscenery.com/
https://www.youtube.com/watch?time_continue=11&v=gjubCFGKcI0
Get out and see some live music this week.
An Exit
Blinker the Star - Careful With Your Magic - Indie (on Bandcamp)


Island Swan
Blinker the Star - Careful With Your Magic - Indie (on Bandcamp)


Distance Dealer
Fly Pan Am - C'est Ca - Constellation


Sisyphus of the Negev
Collapsing Scenery - Stress Positions

Kill The Indian Save the Man (feat. Tamaryn)
Collapsing Scenery - Stress Positions

Each Ether
Fly Pan Am - C'est Ca - Constellation


Avant-gardez vous
Fly Pan Am - C'est Ca - Constellation