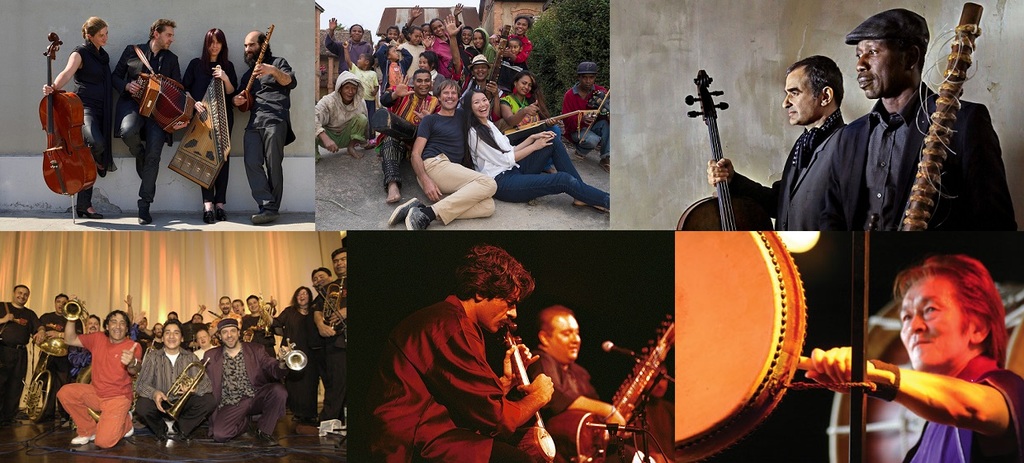 David Dalle
Thursday November 11th, 2021 with David Dalle
Funding Drive!! Help the music continue to ring out in its beauty, its anger, its joy, its sadness, in all its extraordinary forms on CKCU on Thursday afternoons!
My second and final show for the 2021 CKCU funding drive. Pledges have continued to trickle in over the past week and I am over halfway to my personal goal! But the funding drive total still has a long way to go, we need your help! There is no CKCU without you! We are using
https://www.canadahelps.org/en/charities/CKCU/p2p/CKCU-2021-funding-drive/team/david-dalle/
so making online donations is easier than ever before, and you can get your tax receipt immediately. Thinking of a theme for today which shows the extraordinary range of music presented on my program, we will not hear any music from a single tradition today, only collaborations from multiple traditions. Some of these are more organic while some are more deliberate, but all are fantastic!
Three duo collaborations. Chinese and Japanese; Uzbek and Chinese, Peruvian and Iranian.
Goodbye Again
Guo Yue & Joji Hirota - Red Ribbon - Shanachie
Navo
Abduvali Abdurashidov & Wu Man - Music of Central Asia Vol. 10 Borderlands - Smithsonian Folkways
Zapateo de los lagos
Duo Perse-Inca - Echoes of the Mountains - Analekta

Continuing with three different collaborations all featuring Flamenco singers, with Cuban pianist Bebo Valdés, Malian musicians led by Toumani Diabaté, and with the Faiz Ali Faiz Qawwali group.
Veinte anos
Bebo & Cigala - Lagrimas Negras - Calle54
Pozo del Deseo
Ketama, Toumani Diabate, Jose Soto, Kasse Mady Diabate - Songhai 2 - Rykodisc
Tango al mar
Ensemble Faiz Ali Faiz, Duquende, Miguel Poveda, Chicuelo - Qawwali Flamenco - Accords Croises
The next three feature jazzy Cuban and Klezmer, Klezmer and Egyptian brass, and the brilliant concert recording of jazz pianist Romeo Scaccia with the Kocani Orkestar.
Freylekhs Tumbao
David Buchbinder - Odessa/Havana - Tzadik

Imayel Ya Khail
Frank London's Klezmer Brass Allstars with Hasaballa Brass Band - Brotherhood of Brass - Piranha
Sahara Dreams
Romeo Scaccia & Kocani Orkestar - Romeo Scaccia Meets Kocani Orkestar - Morgenland
For the next set we will hear four tracks from one of the most stunning, unique recordings I've heard. It's too much to go into here, but it is music from indigenous people recorded throughout islands in the Indian and Pacific islands, mixed together with the artist's input. There are music traditions I have never heard before mixed with other music traditions I have never heard before. You can read a lot more about it and listen to most of the album on this show on-demand:
https://cod.ckcufm.com/programs/105/38577.html
Gasikara
Airileke et al - Small Island Big Song - Small Island Big Song
Kwin Potutu
The Yumy Yet Bamboo Band et al. - Small Island Big Song - Small Island Big Song
Omby
Rajery et al. - Small Island Big Song - Small Island Big Song
Uyas Gerakun
Piteyo Ukah et al. - Small Island Big Song - Small Island Big Song
Chamber Music
Ballake Sissoko & Vincent Segal - Chamber Music - No Format
Meeting of the Minstrels (Desert Jam #2)
Vieux Farka Toure, Lakha Khan, Madou Sidiki Diabate, Barmer Boys - Live at the Amarrass Desert Music Festival 2011 - Amarrass Records
Mabo Maboe & gigue from cello suite no. 4
Johann Sebastien Bach-Hughes de Courson/Pierre Akendengue with Nana Vasconcelos et al. - Lambarena Bach to Africa - Sony Classical
Pepa Nzac Gnon Ma & prelude from partita for violin no. 3
Johann Sebastien Bach-Hughes de Courson/Pierre Akendengue with Nana Vasconcelos et al. - Lambarena Bach to Africa - Sony Classical
Kutambarara
Dumisani Maraire/Dumisani Maraire, Kronos Quartet, Oakland Interfaith Gospel Choir - Pieces of Africa - Nonesuch