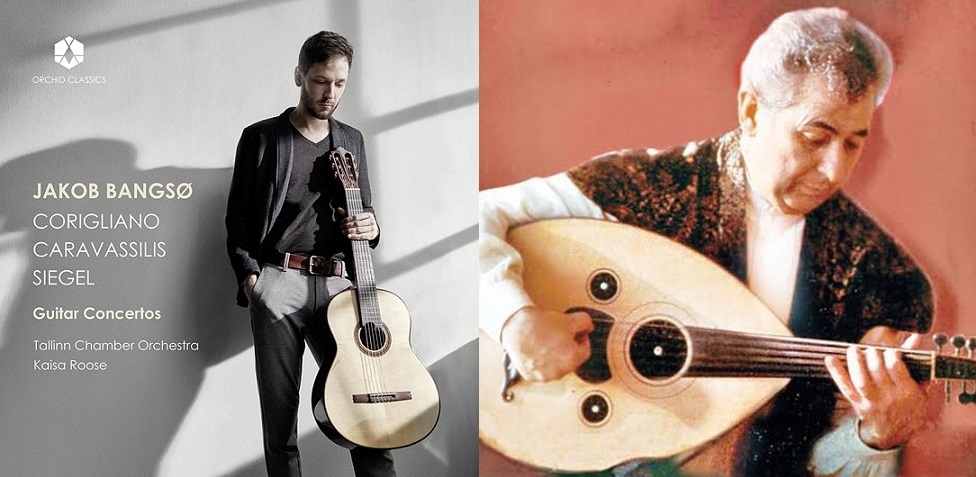 David Dalle
Thursday June 17th, 2021 with David Dalle
Constantine Caravassilis' guitar concerto "Saudade"; oud and voice with Cinucen Tanrikorur; Lubomyr Melnyk.
Today we will hear "Saudade", the recent guitar concerto by Canadian composer Constantine Caravassilis. This concerto was commissioned by the guitarist Jakob Bangso, who recorded it in that most musical of countries, Estonia, with the Tallin Chamber Orchestra. "Saudade" is described by Caravassilis as "the deepest of desires for something that cannot exist in the present". Though composed and recorded in 2018, it was released late last year and, as such, exquisitely suits the mood of this global pandemic. The concerto is in four unbroken movements. The first opening with a thunderous rumble, before lonely isolated notes haunt this movement which is built around a lullaby Caravassiliss' grandmother used to sing and a Greek folk song. The second movement recalls militaristic scherzi of Shostakovich with its use of snare drum. The gorgeous third movement is the aching heart of this concerto, where the feeling of Saudade becomes unbearable. A lengthy solo cadenza leads into the fourth movement which brings the work to a hopeful conclusion.
We will hear the Caravassilis concerto in the 2nd half of the show. We begin with a new Ocora reissue of a 1983 recording of the great autodidact Cinucen Tanrikorur, who mastered and expanded the technique and repertoire of the Turkish oud. We also hear the Italian composer (who also has Turkish background) Carlo Domeniconi's wonderful piece for classical guitar "Koyunbaba", which mimics the Turkish saz.
Bayati Araban 'Ayin-i-Serifi'
Cinucen Tanrikorur - Turquie: L'Art du ud - Ocora

Koyunbaba
Carlo Domeniconi/Philip Dent Candelaria - Progression - Palladium Records

Darya
Safarbeguim Tashkhoudaeva et al. - Pamir: Chants et musiques du toit du monde - Buda
Saudade, Concerto for Guitar and Orchestra
Constantine Caravassilis/Jakob Bangso, Tallinn Chamber Orchestra, Kaisa Roose - Guitar Concertos - Orchid Classics

Lubomyr Melnyk, who composed, performed, and mastered his unique piano technique for decades in complete obscurity, is continuing his long-awaited and much deserved ascendance with this gorgeous work heard several times in the popular HBO series "Mare of Easttown".
Pockets of Light
Lubomyr Melnyk with Peter Broderick - Corollaries - Erased Tapes

Lumen de Lumine
Constantine Caravassilis/Maria Pikoula - Variations & Inspirations - Independent

Una Limosnita por Amor de Dios
Agustin Barrios Mangore/Philip Dent Candelaria - Progression - Palladium Records