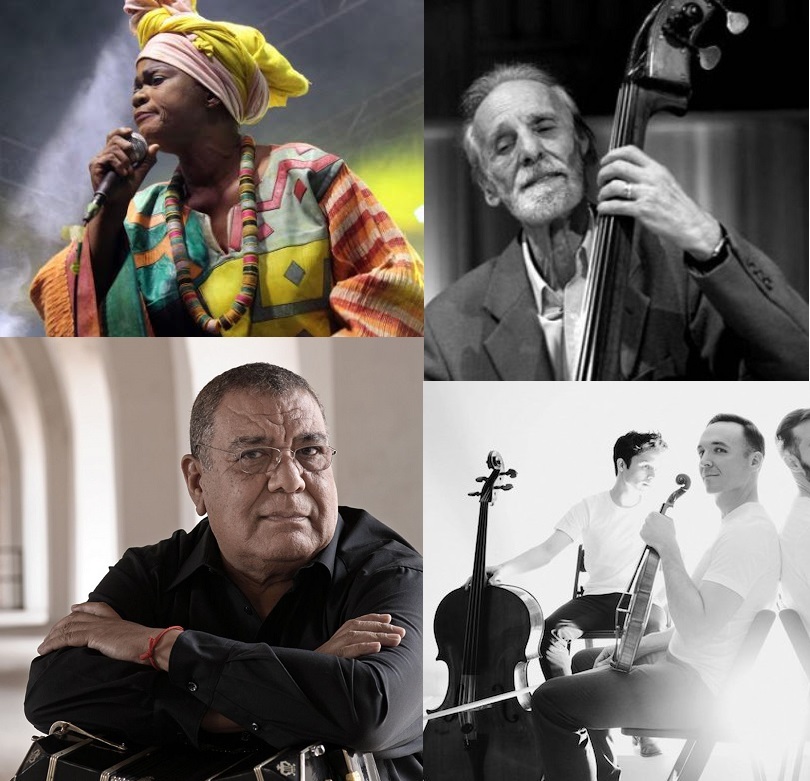 David Dalle
Thursday January 14th, 2021 with David Dalle
New music from John Luther Adams, experimental Argentinian jazz, new music from Mali, Djibouti, and more!
Two weeks ago we heard new music from John Luther Adams followed by the new album by Dino Saluzzi. They went well together so I will echo it today with more new music from John Luther Adams, followed by the new Dino Saluzzi. I will also delve deeper into adventurous Argentinian music with the composer, double bassist, and band leader Jorge Lopez Ruis who worked in numerous fields including jazz, composing for films, popular styles, and academia. We will hear his 1971 four movement, avant-garde, funky, brassy, spoken word jazz suite "Bronca Buenos Aires". We will also hear the new album from Malian singer Nahawa Doumbia and a preview of Ostinato Records' upcoming album.
We begin with John Luther Adams' 5th String Quartet "Lines Made by Walking" composed in 2019. Adams, an environmental activist as well as composer, has spent an inordinate amount of time hiking and walking the "mountains and tundra of Alaska...the Mexican desert, the altiplano, quebradas, and mountains ridges of Chile, and the hills and canyons of Montana. Making my way across these landscapes at three miles an hour, I began to imagine music coming directly out of the contours of the land." In this quartet, Adams composed three expansive harmonic fields made up of different tempo canons, comprising five to seven layers. I first listened to this piece shortly after reading an article on fossil human footprints from the Pleistocene found in New Mexico along with Mammoth and giant sloth fossil footprints (https://www.nytimes.com/2020/10/23/science/ancient-footprints.html). This quartet seems to stretch out endlessly. Evoking deep time, it feels like it reaches back into this past following the contours of these ancient ghostly paths. John Luther Adams' music is pure magic!
Lines Made by Walking
John Luther Adams/JACK Quartet - Lines Made by Walking - Cold Blue Music

Ofrenda - Tocata
Dino Saluzzi - Albores - ECM

Argentinian jazz is in the air today, or at least on my show! Argentinian saxophonist Horacio 'Chivo' Borarro from a live concert in 1970 Buenos Aires with Fernando Gelbard piano, Pocho Lapouble drums, and Jorge Lopez Ruiz on bass.
Africa
El Cuarteto del Chivo Borraro - En Vivo - What music
Didadi
Nahawa Doumbia - Kanawa - Awesome Tapes From Africa

Ndiagneko
Nahawa Doumbia - Kanawa - Awesome Tapes From Africa

A teaser from the upcoming album from Ostinato Records, after bringing us the first internationally released commercial recording of music from Djibouti last year (Groupe RTD), they are releasing some recordings from the Djibouti Radio (RTD) archives. The upcoming album is a compilation of tracks from 4 Mars. 4 Mars was a 40 man ensemble that was unknown outside of Djibouti, all these tracks were recorded in Djibouti between 1977 and 1994. The album comes out in February but is available for pre-order on Bandcamp.
https://ostinatorecords.bandcamp.com/album/djibouti-archives-vol-1-super-somali-sounds-from-the-gulf-of-tadjoura
Dhulka Hooyo
4 Mars - (Djibouti Archives Vol. 1) Super Somali Sounds from the Gulf of Tadjoura - Ostinato Records

Aabo Usha Noohaay
4 Mars - (Djibouti Archives Vol. 1) Super Somali Sounds from the Gulf of Tadjoura - Ostinato Records

La Ciudad Vacia
Jorge Lopez Ruiz - Bronca Buenos Aires - What music
Relatos
Jorge Lopez Ruiz - Bronca Buenos Aires - What music
Amor Buenos Aires
Jorge Lopez Ruiz - Bronca Buenos Aires - What music
Bronca Buenos Aires
Jorge Lopez Ruiz - Bronca Buenos Aires - What music