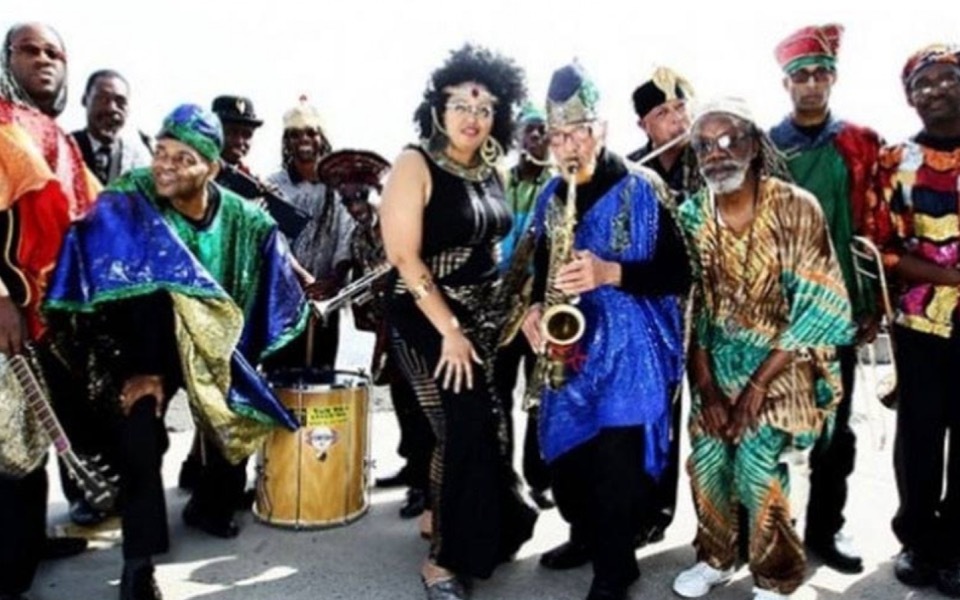 David Dalle
Thursday December 3rd, 2020 with David Dalle
Sun Ra Arkestra's brand new album!
Today we will hear a large slice of the brand new album "Swirling" by the Sun Ra Arkestra. Sun Ra may have crossed over the cosmic veil, but his Arkestra continues to spread blessings throughout this dimension under the direction of 96 year old(!) Marshell Allen who has been part of the Arkestra since 1958! Alto player Marshell Allen has recorded every album with Sun Ra for 35 years until the latter's death, and has continued with the Arkestra since then, taking over direction in 1995. "Swirling" is the Sun Ra Akrestra's first studio album in over 20 years (though they continued to perform and tour during those years). Sun Ra inspired fierce loyalty in his musicians and many current members had joined when Sun Ra was still with us and continued for decades. The new album features all compositions by Sun Ra except the title track composed by Marshell Allen and along with the Arkestra veterans features some new talent like the very talented singer and violinist Tara Middleton. A special note, Marshell Allen, besides Alto Sax, plays an EVI--electronic valve instrument--which provides electronic sounds in an otherwise all acoustic ensemble. This album is truly fantastic! A wonderful tribute to the late master who I am sure is smiling down from the astral plane he resides. Baritone sax player Danny Ray Thompson, Arkestra member since 1968, and conga player Stanley "Atakutune" Morgane, Arkestra member since 1979, have both crossed over to join Sun Ra since recording this new album.
Seductive Fantasy
Sun Ra Arkestra - Swirling - Strut

Swirling
Sun Ra Arkestra - Swirling - Strut

Rocket No. 9
Sun Ra Arkestra - Swirling - Strut

Complementing Sun Ra's cosmic music is Sun Ra's cohort Alan Hovhaness, who, like Sun Ra on the edge of jazz world, was also an outsider on the edge of classical music world. Hovhaness, who was born in 1911 only 3 years before Sun Ra, had a lifelong passion for astronomy which inspired many cosmic symphonies such as his 1983 'Star Dawn' symphony. Both Sun Ra and Alan Hovhaness were also extremely prolific composers, Sun Ra with over 100 albums and over a thousand compositions, Hovhaness with 63 symphonies and over 500 compositions.
Symphony No. 53 'Star Dawn' Op. 377
Alan Hovhaness/The Royal Scottish Academy of Music and Drama Wind Orchestra, Keith Brion - Symphonies Nos. 4, 20, and 53 - Naxos
Infinity/I'll Wait For You
Sun Ra Arkestra - Swirling - Strut

Door of the Cosmos/Say
Sun Ra Arkestra - Swirling - Strut

Raga Kaan Ka'Eegtow
Groupe RTD - The Dancing Devils of Djibouti - Ostinato Records
Ibitlan
Mdou Moctar - Ibitlan - Sahel Sounds
Que Camello Que Salchicha
Orquesta Aragon - La Charanga Eterna - Lusafrica
Julinha
Bitori - Legend of Funana - Analog Africa
Didi Di Rez
Bitori - Legend of Funana - Analog Africa
Thriller
Astor Piazzolla & his orchestra - 1977-1978 - Justin Time
Furfangos Frigyes
Frank London Glass House Orchestra - Astro-Hungarian Jewish Music - Piranha
Dancing From the Heart
The Master Musicians of Jajouka led by Bachir Attar with Bill Laswell and Material - Apocalypse Live - M.O.D. Technologies