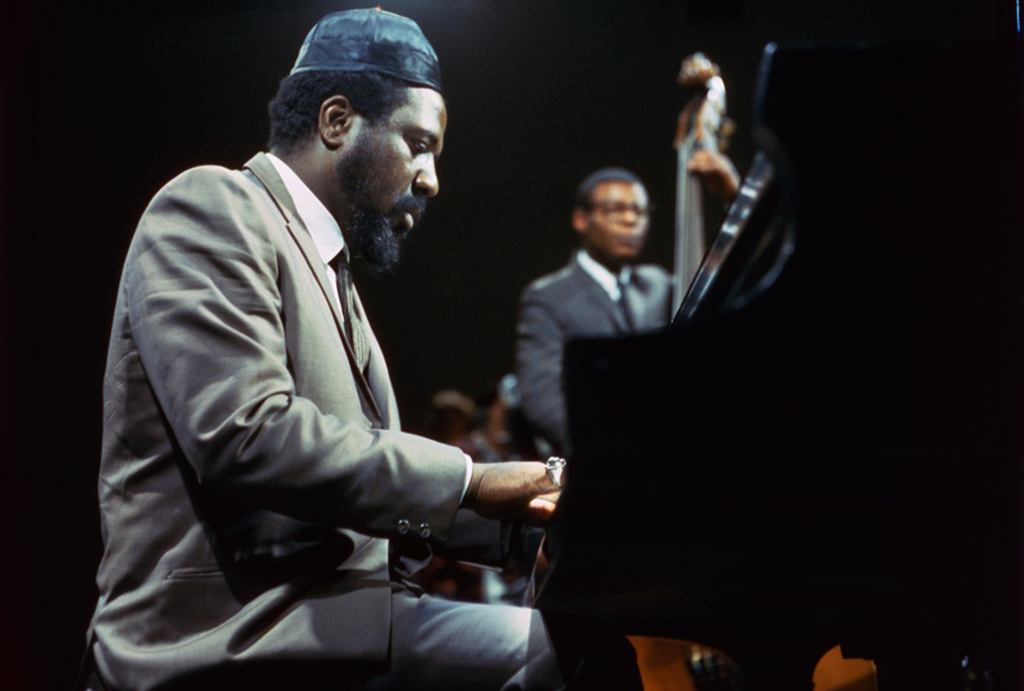 David Dalle
Thursday October 1st, 2020 with David Dalle
A new never-released-before recording of Thelonious Monk live in concert. New music from Zanzibar songstress Siti Muharam, music from India, Zimbabwe, Comoros and more.
Impulse! Has just released a new never-heard-before live recording of Thelonious Monk and his quartet, recorded in the auditorium of a Palo Alto high school in 1968. This unlikely performance came through the perseverance of one of the high school students, Danny Scher, who loved jazz and took initiative to book jazz concerts at his school. Monk happened to be on tour and booked for a two week engagement in nearby San Francisco and as it turned out, Monk's career was in a downturn. His recent Columbia recordings had not been selling well, his wife had health issues, he himself had spent some time in a hospital, missing recording dates. Financially he had many debts and his earnings were low, many contemporary critics believed his best years were behind him. So when 16 year old Danny Scher called his manager, Monk was happy to get any bit of extra income during his two week stay in San Francisco. Scher put up posters all over Palo Alto advertising the concert with tickets selling for $2. Sales were slow as many people were skeptical that Thelonious Monk would actually appear. Sales remained slow up to the night of the concert on Oct 27th 1968, but many of the skeptics showed up to see if Monk would actually show, and when Scher's older brother drove up in a van with Monk and his quartet inside, they promptly lined up for tickets and the concert sold out. Monk and his quartet, Charlie Rouse on tenor sax, Larry Gales on bass, Ben Riley on drums performed a terrific 47-minute set of originals (they were driven back to San Francisco afterwards for an evening concert) before a raucous, appreciative crowd. The janitor asked if he could record the concert, and that recording remained unheard in a closet for five decades. Danny Scher would go on to have a successful career as a concert promoter.
Ruby, My Dear
Thelonious Monk - Palo Alto - Impulse!

Well, You Needn't
Thelonious Monk - Palo Alto - Impulse!

Don't Blame Me
Thelonious Monk - Palo Alto - Impulse!

Blue Monk
Thelonious Monk - Palo Alto - Impulse!

Epistrophy
Thelonious Monk - Palo Alto - Impulse!

I Love You Sweetheart of All My Dreams
Thelonious Monk - Palo Alto - Impulse!

A piano solo interlude by Fred Hersch with a piece by Monk, recorded live at the Vanguard in 2005.
Work
Fred Hersch - Alone At the Vanguard - Palmetto Records
The next set begins with Siti Muharam from Zanzibar, the great-granddaughter of Siti Binti Saad, the most important pioneer in East African Taraab who, as the first woman Taraab singer, she took it out of the court in Zanzibar, started singing it in Swahili instead of Arabic and made it very popular in East Africa in the 1930's. Siti Muharam continues this legacy with her new album "Siti of Unguja". She also looks towards the future as besides traditional Taraab instruments, the oud, qanun, and percussion, there is doublebass, bass clarinet, and keyboards/electronics.
Machozi Ya Huba
Siti Muharam - Siti of Unguja - On The Corner

Sikitiko
Siti Muharam - Siti of Unguja - On The Corner

Kijiti
Siti Muharam - Siti of Unguja - On The Corner

Maua (Wadaha)
Sambeco - Sambe-Comores - Dizim Records
Will You?
Saffron Ensemble - Will You? - Tames Records
Juggernaut (feat. Kushal Gaya)
Sarathy Korwar - Otherland - The Leaf Label

Mehndi Laga Ke Rakhna
The Bollywood Brass Band - The Bollywood Brass Band - Emergency Exit Arts
Marudzi Nemarudzi
Thomas Mapfumo - Rise Up - Realworld