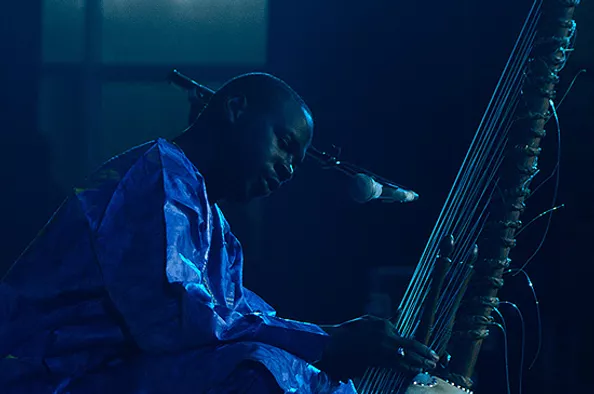 David Dalle
Thursday July 9th, 2020 with David Dalle
Looking back at one of the first Analog Africa releases the seminal "African Scream Contest" compilation and looking forward to new music from Madou Sidiki Diabate and more.
Filling in some of the many many holes in my back catalogue, I was listening to the 3rd release from Analog Africa, a compilation titled "African Scream Contest" with music mainly from Benin with a few tracks from neighbouring Togo. This was a seminal release for Analog Africa's Samy Ben Redjeb as it represented his first of many trips to Benin, the astonishing popular music from the 60's to 80's had an influence much larger than one would expect from this small African country. Analog Africa has had more releases from Benin than any other country in its 40 album catalogue. The music on this compilation shows two of the largest outside influences on West African popular music during this time: Cuban and American soul and funk, and fused with their African musical traditions and sensibilities created irresistible music!
Starting with the Cuban influence.
Oya Ka Jojo
Les Volcans de La Capital - African Scream Contest - Analog Africa
As a teenager Roger Damawuzan from Togo saw a film of James Brown at the American Cultural Center in Togo and it changed his life. Roger Damawuzan quit his studies and moved across the border to Ghana just so he could learn English and sing like his idol. This great song was his first in English using almost his entire English vocabulary at the time!
Wait For Me
Roger Damawuzan - African Scream Contest - Analog Africa
Ouinsou Corneille was a very talented singer and composer, and like many similar artists, they would hire a band to record their songs. He could not afford the famed Orchestre Poly-Rythmo, so he hired Black Santiago instead. The result was still terrific! Only 500 singles were pressed in 1979 and it is incredible that we can hear it today.
Vinon So Minsou
Ouinsou Corneille & Black Santiago - African Scream Contest - Analog Africa
Poisson Rouge
Mohamed Abozekry & Heejaz Extended - Ring Road - Jazz Village
Another incredibly rare find was this obscure band who recorded a single track in 1971.
Ya Nan Lon An
Orchestre Super Jeevs des Paillotes - African Scream Contest - Analog Africa
Tidiane Koné was a great trumpeter who in 1970 Bamako founded the famous Rail Band. By the late 70's he was looking elsewhere and spend a disappointing 8 months playing with Fela, he was recruited to record with the Orchestre Poly-Rythmo in 1978 and they made wonderful music!
Djanfa Magni
Tidiani Kone & Orchestre Poly-Rythmo - African Scream Contest - Analog Africa
Vincent Ahehehinnou recorded with Orchestre Poly-Rythmo and his music was strongly influenced by Fela's Afrobeat as well as Vodun rituals. This incredible song must be danced to!
Ou c'est lui ou c'est moi
Vincent Ahehehinnou - African Scream Contest - Analog Africa
We will hear two tracks from the new album from Mamadou Sidikite Diabaté on Amarrass Records which features a live recording from 2015 in New Delhi book-ended by some rare 19th century piano and orchestra pieces courtesy of Hyperion's Romantic Piano Concerto series.
Rondo de concert Op. 27
Henri Herz/Howard Shelley, Tasmanian Symphony Orchestra - The Romantic Piano Concerto vol. 78 - Hyperion
Djeliya
Mamadou Sidiki Diabate - Kora Electrique - Amarrass Records

Fama Denke
Mamadou Sidiki Diabate - Kora Electrique - Amarrass Records

Konzertstuck Op. 113
Ferdinand Hiller/Howard Shelley, Tasmanian Symphony Orchestra - The Romantic Piano Concerto vol. 78 - Hyperion