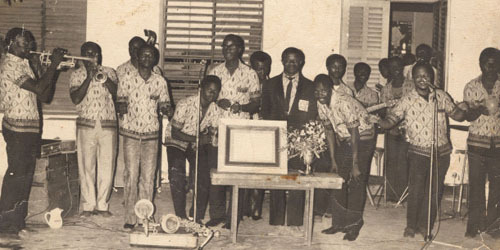 David Dalle
Thursday December 12th, 2019 with David Dalle
Glorious African music that funks so hard from Burkino Faso, Ethiopia, Somalia. Ecstasy and rapture from Alexander Scriabin; Constantinople Ensemble and Savina Yannatou in concert and more.
Starting off today's show with a few tracks from Analog Africa's glorious compilation "Bambara Mystic Soul" with music from 1974-1979 in Burkino Faso. It's hard not to think of golden ages when listening to this music! We will also hear music from Montreal's Constantinople and Greek singer Savina Yannatou. They are on tour together in a program entitled "Praises To the Sea" and are performing tomorrow night in Ottawa!
https://musicandbeyond.ca/event/constantinople-louanges-a-la-mer-praises-to-the-sea/
Zambo-Zambo
Mamo Lagbema - Bambara Mystic Soul - The Raw Sound of Burkina Faso 1974-1979 - Analog Africa
Katougou
Richard Seydou Traore - Bambara Mystic Soul - The Raw Sound of Burkina Faso 1974-1979 - Analog Africa
Oye Ka Bara Kignan
Amadou Ballake et l'Orchestre Super Volta - Bambara Mystic Soul - The Raw Sound of Burkina Faso 1974-1979 - Analog Africa
Ibakish Tarekigne
Hailu Mergia and the Walias - Tche Belew - Awesome Tapes From Africa
Godonimada Jira
Bakaka Band - Mogadisco - Dancing Mogadishu from 1972-1991 - Analog Africa

Ventinho Do Norte
Mestre Cupijo e seu ritmo - Siria - Analog Africa
Siria Quente
Mestre Cupijo e seu ritmo - Siria - Analog Africa
Eu Quero O Meu Anel
Mestre Cupijo e seu ritmo - Siria - Analog Africa
Kasap
Barbaros Erkose Ensemble - Lingo Lingo - Golden Horn Records
Ussak Sarki
Derya Turkan & Sokratis Sinopoulos - Letter from Instanbul - Golden Horn Records
Gecmis Guzel Gunleri
Savina Yannatou & Primavera en Salonico Ensemble - Mediterranea - Sounds True
Mera Merose
Savina Yannatou & Primavera en Salonico Ensemble - Mediterranea - Sounds True
La mala suegra
Constantinople - Terres Tuquoises - Atma classique

Ballo Sardo
Savina Yannatou & Primavera en Salonico Ensemble - Mediterranea - Sounds True
I have been listening to Scriabin almost obsessively the past week, I am not sure why, other than I love his music. We will hear two pieces composed around 1907, both heights of his ecstatic and mystical music. His 5th piano sonata and "Le poème de l'extase". For Scriabin, ecstasy in music was erotic, religious, artistic all combined. He truly believed art, and specifically his art, would bring about the redemption of humanity. "The world is unfortunately still unredeemed, but one of its consolations is Scriabin's thrillingly voloptuous music." -Andrew Huth
Piano Sonata no. 5 in F sharp Op. 53
Alexander Scriabin/John Ogdon - Piano Music - EMI Classics
Le poème de l'extase Op. 54
Alexander Scriabin/Deutsches Symphonie-Orchester Berlin, Vladimir Ashkenazy - Complete Symphonies - Decca
Mazurka in c sharp minor Op. 41 no. 4
Frederic Chopin/Pavel Kolesnikov - Pavel Kolesnikov Plays Chopin - Hyperion