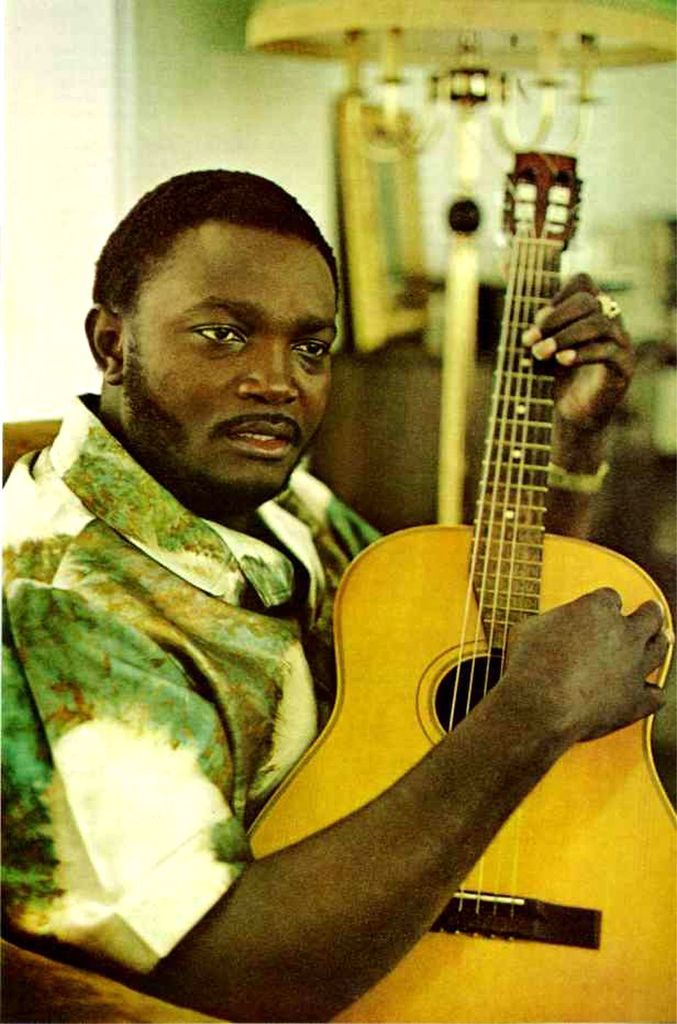 David Dalle
Thursday October 10th, 2019 with David Dalle
On entre OK et on sort KO: Celebrating the life of one of the greatest giants of African music, Franco Luambo, who died 30 years ago on Oct 12th, with a retrospective of his career. Farewell to Jessye Norman.
Today we celebrate the life of one of the greatest giants of African music, Franco Luambo Makiadi. I stress African music, rather than strictly Congolese music, because over his nearly 40 year career his music became incredibly popular throughout Africa. The Soukous of the 70's onwards has one of the best claims to being truly Pan-African music. He influenced and inspired countless musicians. Franco played guitars, sang, as well as composed music, though he was never the best guitarist or singer in his huge ever-changing band, perhaps his greatest talent was as a bandleader. With his enormous charisma and force of personality, he was able to attract many of the greatest Congolese musicians and singers--the band could swell to 18-20 members--and he could balance all their competing egos and encourage a congenial, collaborative atmosphere. However this is not to completely diminish his role as guitarist and singer, which were often crucial to the balance, often the contrast his coarser voice would make coming after the melifluous voices of the other singers would emphasize and anchor the emotions in the songs. His music ranged from the heavily Cuban-influenced Rhumba of the 1950's and 60's to the shift into what became know as Soukous around 1970, with influences from diverse sources such as American Funk of James Brown and traditional music from his mother's tribe. Franco was born in the Belgian Congo in 1938 and moved as an infant to Leopoldville (which later became Kinshasha, capital of independent Congo). He lived mostly as a street urchin in and around the markets where his mother ran a stall, listening to the enormous range of Congolese music present in Kinshasha from the many different ethnicities which filled the city. Aged 7, he made his own guitar, and after his father died when he was 11, he began to busk full time to help support the family. A bandleader noticed the precocious child and invited him into his band Watam. Aged 15 he was signed to a 10 year contract and he made his first recording on Aug 3 1953, the first of thousands of songs he would record over the next 36 years . This is where we begin.
Franco's first recording, at 15 years old in 1953.
Esengo ya mokili
Franco - Francophonic - Stern's
By June of 1956 the band Franco was playing in would be the regular weekend band for the OK Bar, and they named themselves OK Jazz. "Jazz" was a common moniker for Kinshasha bands, but did not refer to Jazz music, but signified a more professional and talented ensemble. In 1957 they recorded a song called "On entre O.K. et on sort K.O." (We enter OK and leave KO--knocked out). This song was a big hit and the title became the slogan of Franco and the band for the next 30 years.
On entre O.K. et on sort K.O.
Franco & OK Jazz - Francophonic - Stern's
By the 1960's Franco had become the de facto leader of the band and the band would greatly expanded, by the mid 60's it featured 14 instrumentalists and 6 singers! This song recorded in 1965 showcases their 60's big band sound.
Bazonzele Mama Ana
Franco & OK Jazz - Francophonic - Stern's
At the start of the 70's the urban popular music of Kinshasha began to change, one of the most prominent became the importance of rhythm shift in the course of songs which could be subtle or obvious, faster or slower, but the purpose was to increase the intensity of the song. The other prominent feature was the "Sebene", often an instrumental or mostly instrumental ostinato and intensification with repeated interweaving patterns on the guitars with brass solos floating above. This became known as Soukous, and no one mastered it better than Franco and OK Jazz. There are four distinct sections to this song from 1970 each with different rhythms: Congolese rhumba followed by a funk section which gives way to the Sebene and then a coda.
Marie naboyi
Franco & OK Jazz - Francophonic - Stern's
Franco recorded a couple of songs with acoustic guitars and a female chorus in 1971, this one a tribute to Congolese women. Franco was a womanizer with several wives and many mistresses. This caused him no end of problems as he sometimes seduced the girlfriends of colleagues.
Boma l'heure
Franco & OK Jazz - Francophonic - Stern's
The following song was a very big hit throughout Africa in 1971, and featured a more gentle, softer Sebene.
Infidelite Mado
Franco & TPOK Jazz - Francophonic - Stern's
Franco was a career musician, and he had no issue about writing songs for money. In 1973 "AZDA" became one of his biggest African hits outside Zaire and even Europe, though many listeners who did not speak Lingala assumed it was a love song, but it was actually written as an advertisement for a chain of Volkswagen dealers in several Congolese cities! You can hear the chorus "Vay-way, vay-way, vay-way, vay-way" which was the local pronunciation of VW! Franco and the 24 members of TPOK Jazz each received a new Volkswagen :) Among the thousands of his songs, he did write a few advertising soap, beer, cigarettes, airways etc! But anyway, it was still a wonderful, highly danceable song!
AZDA
Franco & TPOK Jazz - Francophonic vol. 2 - Stern's
Franco's predilection for courting women did precipitate one of the great tragedies of his life. One night in 1970 his younger brother Bavon Marie-Marie Siongo who imitated Franco's guitar style and played in another popular band accused Franco of seducing his girlfriend. Marie-Marie quarreled with Franco then grabbed his girlfriend, jumped in his car, sped off, and crashed into a truck and died. Franco was devastated and withdrew to solitude in his mother's home for several months. In 1974 Franco wrote the song "Kinsiona" in Kintandu, his first language and the language he spoke with his brother. The title translates to "Grief" and Franco unburdens his soul in it.
Kinsiona
Franco & TPOK Jazz - Francophonic vol. 2 - Stern's
OK Jazz and TPOK Jazz had well over a hundred musicians and singers pass through, some only briefly, some for decades. Several went on to very successful solo careers, such as the singer Sam Mangwana who sung with TPOK Jazz from 1972-1975. The following was one of his songs from 1975.
Alimatou
Franco & TPOK Jazz - Francophonic vol. 2 - Stern's
A very substantial feature of Franco as a songwriter was the art of "mbwakela". In Zaire this was the art of subterfuge and surreptitious criticism. Franco would write songs with lyrics which could be heard at a plain level, but also contained many allusions and innuendo. From 1965 until Franco's death in 1989 the Congo was ruled by Mobutu Sese Seko (who renamed it Zaire during his rule, until 1997). As the Congo's most popular and famous entertainer, Franco had a mutually ambivalent relationship with Mobutu. Mobutu always perused the lyrics to every new song penned by Franco (as did many of Franco's fans), searching for the hidden "mbwakela" criticizing him, which was often there in abundance. But Mobutu's hands were tied, he could not accuse Franco of criticizing him without openly admitting the song(s) in question were actually criticizing him. Sometimes the "mbwakela" was not overly subtle, such as in his 1975 song Liberté where Franco sings, on the surface, of wanting to leave a marriage to an over-domineering wife. The allusion to Mobutu was obvious to everyone.
Liberté
Franco & TPOK Jazz - Francophonic vol. 2 - Stern's
All the politics aside, sometimes, you just have to focus on incredible, infectious, irresistible Soukous with glorious sebene which could go on forever with delicious brass as in this 1986 song.
Massikini
Franco & TPOK Jazz - Franco chante "Mamou" - Grace Music
Kinshasha in the 1960's through to Franco's death in 1989 was simply overflowing with music. Hundreds of bands, traditional musicians from the incredible diveristy of ethnicities found in the Congo, a supercharged nightlife and streetlife (Kinshasha is still considered to be one of the loudest cities in the world). But Franco was the greatest. He wrote thousands of songs, often very quickly and collaboratively with his superb band, it was not unusual for them to write and rehearse a new song in an afternoon, play it that night in the club, then record it the next day in one or two takes. And what is astonishing was the consistently high quality of these songs. Franco, as a musical institution really gathered the best and together they were greater than the sum of their parts. Perhaps the only other musician of his generation who was on his level was the great Tabu Ley Rochereau. His band Afrisa International was nearly on par with TPOK Jazz (and many musicians and singers, including Sam Mangwana, moved between them). They also recorded together on the rare occasion. Tabu Ley co-wrote and joined Patience Dabany on this beautiful tribute to Franco from 1994.
Sango Ya Mawa
Patience Dabany feat. Tabu Ley Rochereau - Patience Dabany - EMI
In 1987 and '88, rumours began to swirl about Franco's health which seemed to be declining. He wrote a song "Attention na SIDA" (Beware of AIDS) where he sings that anyone could contract it. People assumed he meant himself, but he always denied it. In 1988 he recorded the beautiful duet Sadou with the TPOK Jazz singer Madilu System, singing about death and preserving his legacy. He made his final recordings at the beginning of 1989 with Sam Mangwana and by the summer he was no longer performing with the band. TPOK Jazz toured North America that summer and Franco stayed home. He died in Belgium on Oct 12 1989, only 51 years old.
Sadou
Franco & TPOK Jazz - Francophonic vol. 2 - Stern's
Saying farewell to another great musician, the magnificent soprano Jessye Norman who died on September 30th. Born in 1945, she was of the same generation as Franco (b. 1938), Tabu Ley (b. 1937 or 1940), Patience Dabany (b. 1941) and had an extraordinary career for nearly 5 decades in opera, concerts, and recitals. We hear her in one of her most definitive recordings, of Strauss's "Four Last Songs", written near the end of his life in 1948, three of the four songs take a peaceful, meditative approach to death as subject. With Norman's voice, they become an absolutely transcendent, numinous swansong.
Four Last Songs ii: September
Richard Strauss/Jessye Norman, Gewandhausorchester Leipzig, Kurt Masur - Four Last Songs - Philips
Four Last Songs iii: Beim Schlafengehen
Richard Strauss/Jessye Norman, Gewandhausorchester Leipzig, Kurt Masur - Four Last Songs - Philips
Four Last Songs iv: Im Abendrot
Richard Strauss/Jessye Norman, Gewandhausorchester Leipzig, Kurt Masur - Four Last Songs - Philips