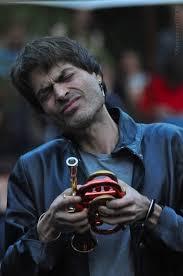 David Dalle
Thursday June 27th, 2019 with David Dalle
Almost mystical jazz from Portugal and a wide mix of strangeness from all parts
The cornerstone of today's program is a fascinating new album "O Carro de Fogo de Sei Miguel" from Portuguese trumpeter Sei Miguel leading an unusual orchestrated ensemble in a live studio recording. Besides Sei Miguel on trumpet, he is joined by Fala Mariam (alto) trombone, Nuno Torres (alto) saxophone, Bruno Silva guitar, Pedro Lourenço bass, André Gonçalves organs, Luìs Desirat and Raphael Soares on percussion. André Gonçalves is not performing on an actual organ, but manipulating samples or organ sound from a laptop and these organ sounds provide the unifying, mystical substrate to all the other instruments, which slowly build over 37 minutes to a grand immolation.
We will begin with with a mix of guitars, unusual fusions, and other strangeness with a look at a couple of great shows still to play at the Ottawa Jazz Festival!
Paraisos Quemados
Santanas feat. Buika - Africa Speaks - Concord

Don't miss Mdou Moctar in Ottawa on July 26th! When's the last time we've had the opportunity to hear a Tuareg guitarist from Niger in Ottawa? hmmm, never?
https://www.eventbrite.ca/e/soul-sole-live-sessions-e2-mdou-moctar-tickets-60892818058
Asshet Akal
Mdou Moctar - Ilana: The Creator - Sahel Sounds

DakhaBrakha late show tonight!
https://ottawajazzfestival.com/artists/dakhabrakha/

Nubya Garcia from the UK at the 4th Stage Saturday:
https://ottawajazzfestival.com/artists/nubya_garcia/

88 year old Cuban legend Omara Portuondo in Ottawa Friday on her last ever tour, don't miss the last chance to see her live!
https://ottawajazzfestival.com/artists/omara-portuondo/

New Orleans' Mardi Gras Indian brass band Cha Qa will be the late show after Omara Friday
https://ottawajazzfestival.com/artists/cha-wa/
Zhaba
DakhaBrakha - Light - DakhaBrakha
Fly Free
Nubya Garcia - Nubya's 5ive - Jazz: Refreshed
Palabras
Omara Portuondo - Palabras - Nubenegra
Can't Cage a Bird
Cha Wa - Spyboy - UPT Music
Specially for You
DakhaBrakha - Light - DakhaBrakha
Since the main piece from Shankar's incredible "Eternal Light" went over so well a couple weeks ago, I thought I'd play the other piece from the album, preceded by the fascinating New York-based Carnatic/Jazz/New Music ensemble Askhara.
Shadjam
Akshara - In Time - Blue-Skinned Gods Records
Ragamalika
Shankar, Zakir Hussain, T.H. Vinayakram - Eternal Light - Moment Records
O Carro De Fogo De Sei Miguel part I
Sei Miguel, Fala Mariam, Nuno Torres, Bruno Silva, Pedro Lourenco, Andre Goncalves, Luis Desirat - O Carro De Fogo De Sei Miguel - Clean Feed Records

O Carro De Fogo De Sei Miguel part II
Sei Miguel, Fala Mariam, Nuno Torres, Bruno Silva, Pedro Lourenco, Andre Goncalves, Luis Desirat - O Carro De Fogo De Sei Miguel - Clean Feed Records