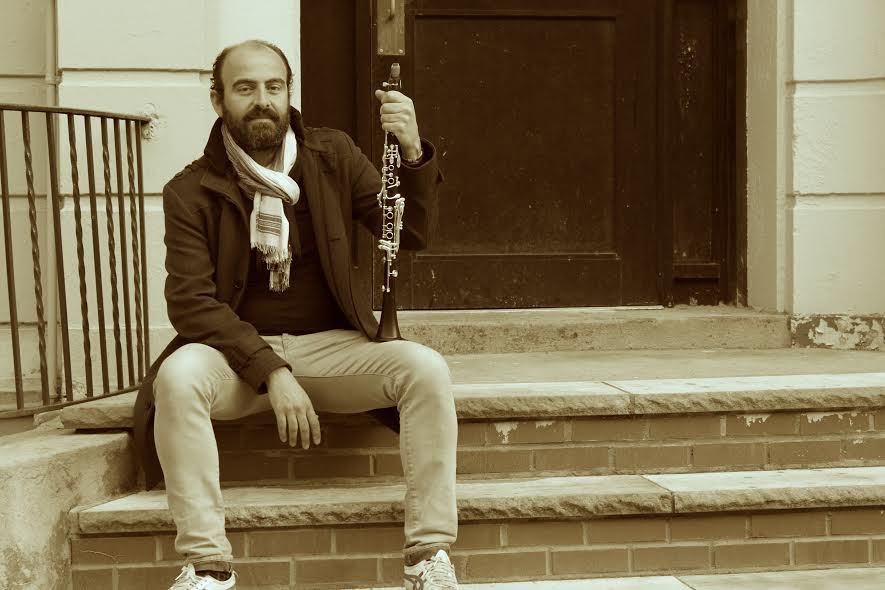 David Dalle
Thursday April 11th, 2019 with David Dalle
Clarinetist Kinan Azmeh and his new album "Uneven Sky" with his own works and other Syrian composers. Music from Sudan.
A look today at the the new album from Kinan Azmeh, who writes he would "like to be described as a Syrian-born, New York-based, genre-bending clarinetist and composer". Azmeh has music degrees from the Damascus High Institute of Music and Juillard in New York. His international life as an extremely successful Syrian expatriate musician became one of a Syrian exile after Syria was plunged into civil war. His music can be both global in scope with his membership in Yo Yo Ma's Silk Road Ensemble and his many collaborations with musicians from all over the world, and can be intensely focused on the agonies and sorrows of his home and also his longing for home. The Syrian civil war has changed his perspective "The art I do doesn't stop a bullet, doesn't bring a free democratic secular Syria, it doesn't bring back people who died... (but) it gives us a reason to live." His new album is a 2-cd set with one dedicated to his own music and the other dedicated to pieces from 3 other Syrian composers. Today, we will hear two of his own works: "Suite for Improvisor and Orchestra" and "Ibn Arabi Suite". The were composed in 2008 and 2013 respectively and feature a melding of Arabic gestures and melodies and Western classical music. The Suite for Improvisor and Orchestra features three movements evoking specific times and places in Azmeh's life. The Ibn Arabi Suite also in 3 movements, features the Syrian vocalist Dina Orsho and is inspired by the 13th century Andalusian mystic and philospher Ibn Arabi.
Ibn Arabi Suite: Prelude, Meditation, Postlude
Kinan Azmeh/Kinan Azmeh, Dima Orsho, Deutsches Symphonie-Orchester Berlin, Manuel Nawri - Uneven Sky - Dreyer Gaido

Haqwa Li Quli
Mustafa Al Sunni - Songs of the Sudan - Nimbus
Min Ozzalna Seebak Seeb
Kamal Tarbas - Two Niles to sing a melody: the violins & synths of Sudan - Ostinato Records
Hawa baladi
Sabet Osman - Au royaume de la lyre - Institut du Monde Arabe
Baracoa
AKA Trio - Joy - Bendigedig

Santa Efigenia
Benji & Rita - Benji & Rita - Independent

Places
Pablo ZIegler & Christopher O'Riley - Tango Nuevo - Steinway & Sons
Alla va candela
La Familia Valera Miranda - Cana Quema - Nimbus
Kabou
Ballake Sissoko with Vincent Segal - At Peace - Six Degrees
Asa Branca
Ballake Sissoko with Vincent Segal - At Peace - Six Degrees
The magnificent Ustad Amjad Ali Khan and his sons Amaan Ali Bangash and Ayaan Ali Bangash will be performing as part of the Small World Asian Music Festival. One of the greatest musicians of his generation and one of my favourites, if you are find yourself fortunate enough to be in Toronto this Saturday, go see him!
http://smallworldmusic.com/shows/amjad-ali-khan-with-amaan-ali-bangash-and-ayaan-ali-bangash
Rag Bhairavi Alap, Gat in Dadra, Gat in Teental
Ustad Amjad Ali Khan, Amaan Ali Bangash, Ayaan Ali Bangash, Mathew Barley, Vikku Vinayakram, Ustad Sabir Khan - Strings Attached: Sarod & Cello - Navras
Suite for Improvisor and Orchestra: Love on 139th street in D, November 22nd, Wedding
Kinan Azmeh/Kinan Azmeh, Deutsches Symphonie-Orchester Berlin, Manuel Nawri - Uneven Sky - Dreyer Gaido

Ciclo Yoruba
Folkloyuma - The Rumba - Nimbus