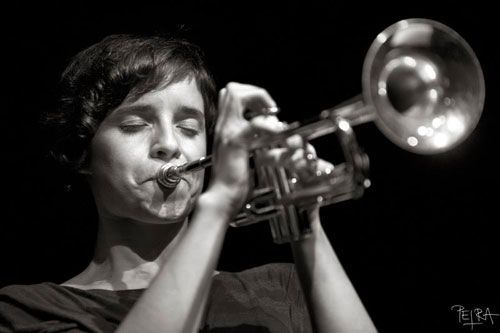 David Dalle
Thursday April 26th, 2018 with David Dalle
Two solo live recordings: Portuguese trumpeter Susana Santos Silva, and Yemeni oud player Ahmad Fathi
Today's show will be centered around two exceptional live recordings of solo musicians. The more unusual is that of Portuguese trumpeter Susana Santos Silva. Solo horn albums are a rarity, and here Santos Silva gives us a fascinating 40 minute improvisation full of wonder and experimentation. It was recorded live in the National Pantheon of Portugal in Lisbon; the huge resonant acoustic space gives the trumpet a sustained and haunting sound that makes one think of Pauline Oliveros. A wonderful new release. The other live recording is an older release, but a stunning document of the Muscat Oud festival from 2006. We will hear some of the performance by Yemeni oud player and singer Ahmad Fathi. We will also hear music from South and East Africa.
musiqa "layali Saba", maqam ussaq
Ahmad Fathi - Al Tarab - Enja
ma'zufat "aya bariq", maqam nahawand
Ahmad Fathi - Al Tarab - Enja
ughniyat "la tisafir", maqam nahawand
Ahmad Fathi - Al Tarab - Enja
ughniyat "sabaya al-balad", maqam nahawand
Ahmad Fathi - Al Tarab - Enja
ughniyat "inn yahrimuna", maqam 'agam
Ahmad Fathi - Al Tarab - Enja
Neiwe unonyanya
Simon Mafiru Sitole - Other Musics from Zimbabwe - SWP
Ndenda ndofira Joni
Penisera Matabeya & Majuta Sitole - Other Musics from Zimbabwe - SWP
Ndozofa msango
Pineas Hungwe - Other Musics from Zimbabwe - SWP
Kufa kusina dangwe
Simon Mafiru Sitole - Other Musics from Zimbabwe - SWP
Bukatiende
Thomas Mapfumo - Lion Songs - Lion Songs
Mahela
Msafiri Zawose - Mbotela - Tate Music Group
Eleven
Igor Lumpert & Innertextures - Eleven - Clean Feed Records

Ulwabishi
Afrika Mamas - Iphupho - ARC

All The Rivers
Susana Santos Silva - All The Rivers - Clean Feed Records

Triste Sina
Amalia Rodrigues - Fado Amalia - Intermusic