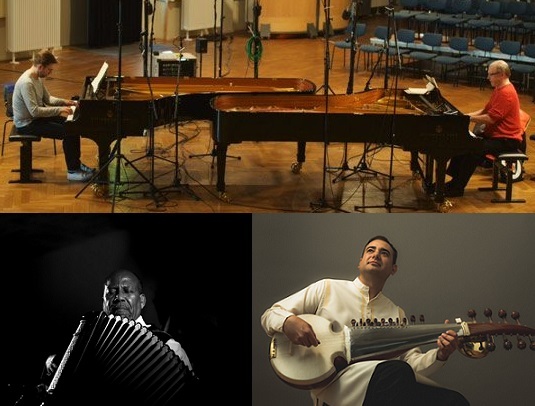 David Dalle
Thursday March 22nd, 2018 with David Dalle
Welcoming Spring with Stravinsky's own 2-piano transcription of his Rite of Spring; new releases of Ethio-jazz with Hailu Mergia, Hindustani sarod with Alam Khan
Spring is officially here, but doesn't quite feel like it. We will urge it along with the pagan sacrifice of a young maiden, or at least as imagined by Stravinsky with his Rite of Spring. This brand new recording features Stravinsky's own 2-piano arrangement played by two extremely talented pianists, Canadian Marc-André Hamelin and Norwegian Leif Ove Andsnes. I find it sounds extraordinary on 2 pianos, a revelation in the clarity of its structure and pounding rhythms. We also hear a couple of terrific new releases. One from Ethio-jazz accordion and keyboard player Hailu Mergia. He led a very successful band in Addis Ababa during the 1970's, but it broke up after he moved to the US in 1981. For the past two decades he has been working as an airport cab driver in Washington D.C. but he keeps his keyboard in the trunk and plays it whenever he can. Brian Shimkovitz of Awesome Tapes from Africa has reissued a couple of his older albums and Hailu Mergia was inspired to create a new album. A trio with Tony Buck on drums and Mike Majkowski on doublebass with Hailu Mergia on keyboards, accordion, melodica. This new album "Lalu Bela" is absolutely wonderful! The other new release is from Alam Khan, a younger son and student of the great Ustad Ali Akbar Khan, one of the seminal figures in Hindustani music in the 20th century. Along with his younger brother Manik, they both teach music and sarod at the Ali Akbar College of Music in California which their father founded in 1967 and carry the torch for the Maipur gharana founded by their grandfather the legendary Ustad Allauddin Khan (besides Ali Akbar and daughter Annapurna Devi, his students included Ravi Shankar, Nikhil Banerjee, V.G. Jog and many others). Like his father, Alam Khan has done quite a few cross-cultural collaborations, but his new album "Immersion" is a pure classical album featuring a couple of Ragas on solo sarod with tabla by Indranil Mallick. Beautiful and masterful.
The Rite of Spring for two pianos
Igor Stravinsky/Marc-Andre Hamelin & Leif Ove Andsnes - The Rite of Spring - Hyperion

Tizita
Hailu Mergia - Lala Belu - Awesome Tapes From Africa

Tizita and Zerafewa
Gigi with Material - Mesgana Ethiopia - M.O.D. Technologies
Asheweyna
Mahmoud Ahmed - Ethiopiques vol. 7 ere mela mela - Buda
secret CD track no. 1
Hailu Mergia - Lala Belu - Awesome Tapes From Africa

secret CD track no. 2
Hailu Mergia - Lala Belu - Awesome Tapes From Africa

Another Mingus moment!
Better Git It In Your Soul
Charles Mingus et al. - Mingus Ah Um - Columbia
Rag Durgeshwari: Alap
Alam Khan & Indranil Mallick - Immersion - AMMP

Rag Durgeshwari: Gat in Jhaptal
Alam Khan & Indranil Mallick - Immersion - AMMP