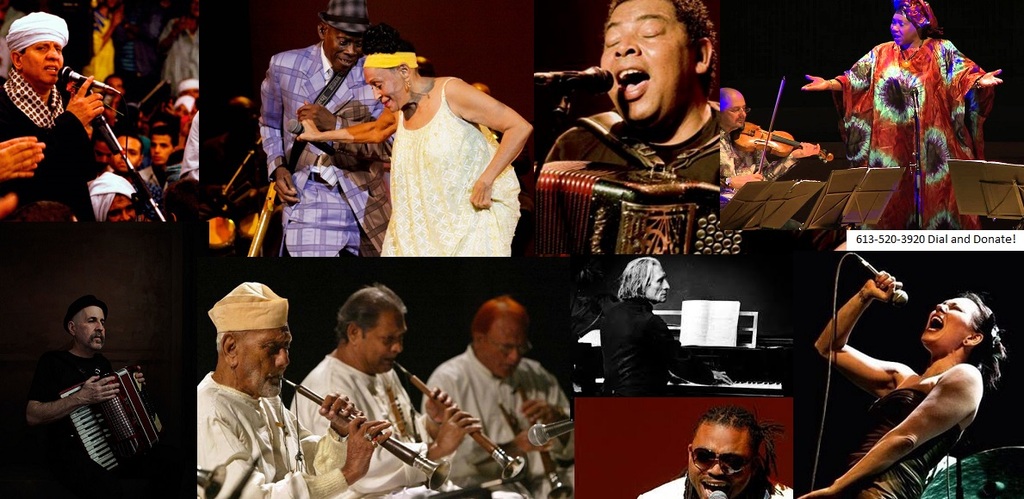 David Dalle
Thursday November 2nd, 2017 with David Dalle
Funding Drive II! Let's explode your ears and open your wallets with some brand new Soca, Klezmer, big brass, East-African funk and a world of music!!
No CKCU without you! Funding drive is still under way and we need your support! As I point out every year, music is an absolute necessity for humanity, it is not optional, it is not a luxury, it is a requirement for humanity just as much as language. And by supporting CKCU, you are ensuring that all of humanity's is heard in Ottawa! We will hear some brand new Soca with unusual Chutney and vintage jazz mixes, Klezmer and Jewish religious music from the great Lorin Sklamberg who will be in Ottawa next week, some extraordinary lost funk from pre-Civil War Somalia and more!
Like Ah Boss
Machel Montano - Monk Monte - Mad Bull Music
Har Paal
Riz & Salty - Single - Julians Promo

Bodyline
Olatunji and System 32 - Single - Julians Promo

Choco's Guajira
Ruben Gonzalez - Chanchullo - World Circuit/Nonesuch
Tormenta
Jane Bunnett and Maqueque - Jane Bunnett and Maqueque - Justin Time

Colaboracion
David Buchbinder - Odessa/Havana - Tzadik
Az nisht keyn emune
Frank London, Lorin Sklamberg, Rob Schwimmer - The Zmiros Project - Traditional Crossroads
Lorin Sklamberg will be in Ottawa next Thursday along with Alan Bern and musicians as part of the Semer Ensemble, these are two of the absolute greatest musicians active in Jewish and Klezmer music alive today. Not to be missed! We will hear a lot from their Semer Ensemble project on next week's show.
https://www.eventbrite.ca/e/semer-ensemble-ottawa-tickets-38132080078
Zaidi, zaidi
Esma Redzepova & Ensemble Teodosievski - Mon histoire - Accords croises
Mali Ba
Kandia Kouyate - Renascence - Sterns Africa
Qaarami
Xasan Diiriye - Sweet As Broken Dates: Lost Somali Tapes from the Horn of Africa - Ostinato Records

Kajri Dhun in Kaharwa Taal
Ustad Bismillah Khan & Party - Shehnai Recital - EMI
Unknown
Shahram Nazeri - Unknown - Shahram
Satyagraha
Philip Glass transcribed Michael Riesman/Christopher Bowers-Broadbent - Trivium - ECM