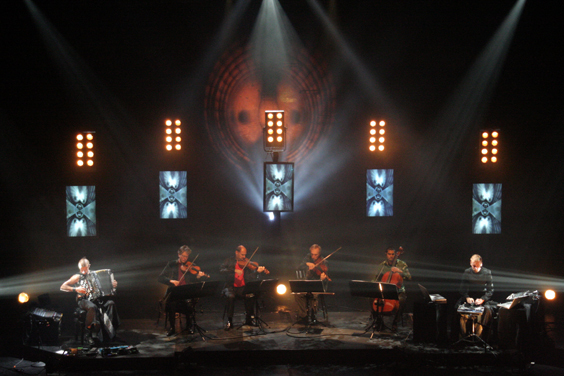 David Dalle
Thursday June 1st, 2017 with David Dalle
Planet Squeezebox I: The thrilling collaboration between Finnish accordionist Kimmo Pohjonen and the Kronos Quartet.
Last week Mark from Infinite Ceiling covered for me and programmed and excellent show, including a movement from the piece "Uniko", a collaboration between the incredible Finnish accordionist Kimmo Pohjonen and the Kronos Quartet with electronics from Samuli Kosmimen. This is one of my favourite Kronos projects, and often when I listen to it, I end up listening to it a few more times in a week. I have not featured it on my program yet, and with the taste from last week, I can't resist featuring it in full. This work in seven movements is composed by Kimmo Pohjonen and Samuli Kosminen. Samuli Kosminen is a Finnish percussionist and electronic artist and he takes string & accordion samples from Kimmo and the Kronos Quartet, manipulates them and adds them to the live accordion and quartet. This work is an explosive, thrilling work where speed and momentum takes your breath away. I love this music!
I Utu
Kimmo Pohjonen, Samuli Kosminen, the Kronos Quartet - Uniko - Odine
II Plasma
Kimmo Pohjonen, Samuli Kosminen, the Kronos Quartet - Uniko - Odine
III Sarma
Kimmo Pohjonen, Samuli Kosminen, the Kronos Quartet - Uniko - Odine
IV Kalma
Kimmo Pohjonen, Samuli Kosminen, the Kronos Quartet - Uniko - Odine
V Kamala
Kimmo Pohjonen, Samuli Kosminen, the Kronos Quartet - Uniko - Odine
VI Emo
Kimmo Pohjonen, Samuli Kosminen, the Kronos Quartet - Uniko - Odine
VII Avara
Kimmo Pohjonen, Samuli Kosminen, the Kronos Quartet - Uniko - Odine
Biloko
Michel Gaston & Tsihozony - Madagascar - Pays Masikoro - l'Accordeon - Ocora
Hararavo Bilo
Remaniny & Retovony - Madagascar - Pays Masikoro - l'Accordeon - Ocora
Nha Rufan Barela
Kode di Dona - Cape Verde - Ocora
Jama Ko
Bassekou Kouyate & Ngoni Ba - Jama Ko - Out Here
Assawt
Tinariwen - Elwan - Wedge/Anti

Baladi We Hetta
Hossam Ramzy - Baladi Plus - ARC
Sur le Fleuve
Anouar Brahem, Francois Couturier, Jean-Louis Matinier - Le Voyage de Sahar - ECM
Andantino from Piano Concerto no. 9
Wolfgang Amadeus Mozart, arranged Ferrucio Busoni/Hamish Milne - Busoni - Hyperion
Var
Sigur Ros - Kveikur - XL