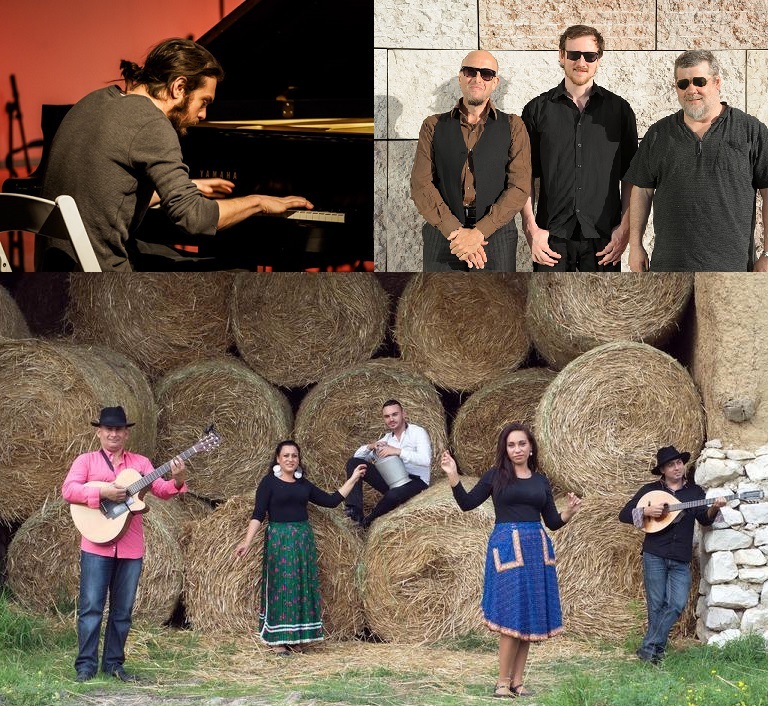 David Dalle
Thursday March 16th, 2017 with David Dalle
New Jazz music from Norway and Sweden, New York; Hungarian, Moroccan music, and Monteverdi.
Today we look at a couple of new jazz releases including a new album by pianist Zack Clarke "Random Acts of Order" where Clarke adds electronics to the traditional jazz trio with bassist Henry Fraser and drummer Dre Hocevar. Also a stellar and highly emotional new album from Trespass Trio featuring Per Zanussi on double bass, Raymond Strid on drums, Martin Kuchen on saxophones. As well some great new Hungarian Roma music with the Khamoro Budapest Band, some Morccan music and a few other surprises.
Act 1
Zack Clarke - Random Acts of Order - Clean Feed Records

Elements
Zack Clarke - Random Acts of Order - Clean Feed Records

Dee
Zack Clarke - Random Acts of Order - Clean Feed Records

Zaro Khayo
Brave Old World - Klezmer Music - Flying Fish Records
Centers
Trespass Trio - The Spirit of Pitesti - Clean Feed Records

In tears
Trespass Trio - The Spirit of Pitesti - Clean Feed Records

Sounds & Ruins (take 3)
Trespass Trio - The Spirit of Pitesti - Clean Feed Records

Dukhal moro terno trajo
Khamoro Budapest Band - Hungarian Gypsy Music - ARC

O mato
Khamoro Budapest Band - Hungarian Gypsy Music - ARC

Sabanoh 2017
Janka Nabay and the Bubu Gang - Build Music - Luaka Bop

Neghshah i Sala Nabi
Amida Boussou - Gnawa Leila - al sur
Neghshah ii Tour Glami
Amida Boussou - Gnawa Leila - al sur
Neghshah iii Shabakru
Amida Boussou - Gnawa Leila - al sur
Neghshah iv Mbirika
Amida Boussou - Gnawa Leila - al sur
Neghshah v Khali Mbara Meskin
Amida Boussou - Gnawa Leila - al sur
Neghshah vi Zil El Mall
Amida Boussou - Gnawa Leila - al sur
Madrigals, book VII Chiome dóro SV143
Claudio Monteverdi/Les Arts Florissants, Paul Agnew - Madrigali vol. 3 - Venezia - Harmonia Mundi

Madrigals, book VIII Lamento de la ninfa SV163
Claudio Monteverdi/Les Arts Florissants, Paul Agnew - Madrigali vol. 3 - Venezia - Harmonia Mundi

Madrigals, book VIII Altri canti dámor SV146
Claudio Monteverdi/Les Arts Florissants, Paul Agnew - Madrigali vol. 3 - Venezia - Harmonia Mundi