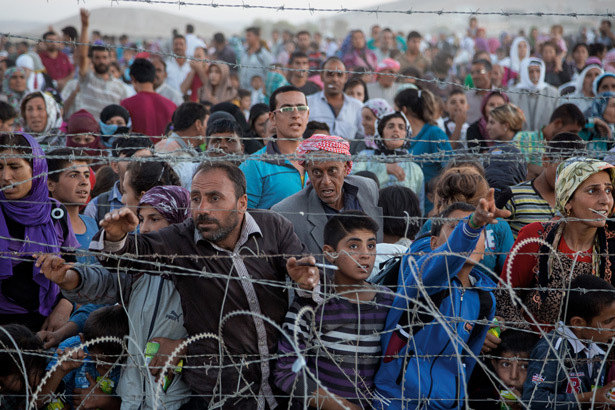 David Dalle
Thursday February 2nd, 2017 with David Dalle
Music from banned peoples - from Iran, Iraq, Syria, Yemen, Somali, Sudan, Libya.
Today we hear music from people President Trump has decided to ban in a complete betrayal of America's ideals, (not to mention logic and pragmaticism, the number of 9-11 Hijackers this ban would have banned: *zero*). The Western world, despite being the safest and most comfortable society in human history, is becoming ridden with irrational fear. Fear is an incredibly corrosive force for humanity. There is war and terror out there, but out of cowardice, we are shutting the door on those people who are desperate to flee that war and terror.
November 22nd
Kinan Azmeh & Dinuk Wijeratne - Complex Stories, Simple Sounds - Independent
Ya ibn al-Nass
Mohammed Murshid Naji - La chanson d'Aden - Institut du Monde Arabe
The striking importance of immigration is shown by the following two singers, both Somali singers born in 1950, Saado Ali Warsame and Maryam Mursal (lead singer for Waaberi). Both very popular in their careers in Somali, but the civil wars in the 1990's settling in the US and UK respectively. Saado Ali Warsame was convinced to return to Somalia in 2012 to serve in the new federal goverment. She was assassinated by Al-Shabaab in 2014. The US is closing its door to wonderful women such as these, and the UK is also being stricken by anti-immigrant sentiment.
Bixiso
Saado Ali Warsame - Caweyska Dalmar
Cidlaan Dareemaya
Waaberi - New Dawn - Real World
Ikka naaraji ayan aa kouddoumanna
Al-Nubatiyya - Chants et tambours de Nubie - Institut du Monde Arabe
Ghaba nawmi
Abdel Gadir Salim - Le blues de Khartoum - Institut du Monde Arabe
Marhabtayn (La Le Yah!)
Unknown - Libyan Music
We have been blessed with two appearances by Hossein Alizadeh and Pejman Hadadi in Ottawa in the past few years. Giants of Persian music, their completely imrovised duos are profound musical events. I fear we will not see them in Ottawa again as long as Trump's ban remains in place. Pejman Hadadi lives in California and Hossein Alizadeh in Iran. They are free to come to Canada, however Pejman Hadadi would understandably be worried about being not being able to return home to California. And even if this were not the case, most international musicians who tour in Canada, can only do it realistically as a small part of a North American tour. This ban will greatly harm the careers of many musicians, as well as scientists and academics, students, and many professionals. It will separate families and cause financial hardship and damage the American economy. One thing it will not do, is make America safer.
Segah
Hossein Alizadeh & Pejman Hadadi - Torbat - Noghteh Tarif Records
Munir Bashir was another great example of an international, immigrant musician. He emigrated to Hungary in the early 1960's and studied with Zoltan Kodaly at the Franz Liszt Academy. He was one of the most influential masters of the Oud in the 20th century. He studied both Western and Indian classical music, but his focus was of course, classical Arabic music where he greatly expanded technique in the pursuit of the deepest emotions. His improvised solo taqsims on the Oud are unrivaled. This piece is dedicated to the six Canadians murdered while praying in their mosque in Quebec - Azzedine Soufiane, Mamadou Tanou Barry, Khaled Belkacemi, Aboubaker Thabti, Ibrahima Barry and Abdelkrim Hassane. Sadly it is not a surprise that Muslims are victims of terrorism. Most victims of violent extremist Islamist are Muslim. Canada should be a safe haven for Muslims and all people.
Taqsim in Maqam Hijaz Kar
Munir Bashir - Recital in Budapest 1992 - Voix de l'Orient