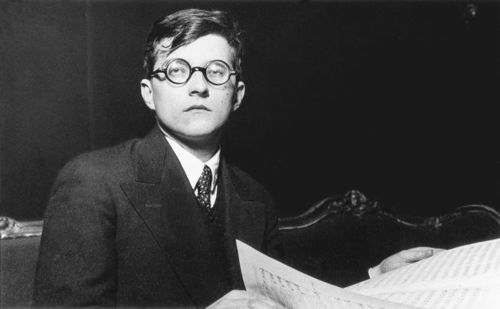 David Dalle
Thursday January 12th, 2017 with David Dalle
Starting my Dmitri Shostakovich symphonic cycle. His 15 symphonies encapture the extraordinary collision between one of European music's most revered forms and one of history's most oppressive and destructive societies.
Today we start my symphonic cycle of the 15 symphonies of Dmitri Shostakovich. We will hear the 15 symphonies in various recordings by important conductors of his music, both historical conductors who knew Shostakovich personally and more recent conductors. Dmitri Shostakovich's 15 symphonies composed between 1925 and 1971 represent the extraordinary collision between one of European music's most revered forms and one of history's most oppressive and destructive societies during its most tumultous history. Shostakovich and his 15 symphonies were not simply bystanders to the dramatic history and political cataclysms taking place. They were at the forefront of the conflict between state propaganda and its "correct" cultural expression and his own artistic vision and independence, and indeed, his very survival. The symphonies were among the most prominent of Shostakovich's compositions because starting with Beethoven the symphony gained preeminence in European music not only as a pinnacle of musical form, but as a public declaration. There were more private, inner worlds of emotion which Beethoven explored in his piano sonatas and string quartets which were never touched upon in his symphonies, and this was echoed by Shostakovich where he was able safely say more in the more "private" world of chamber music. The symphony became known as a grand, public statement of politics and philosophy, and a composer's symphonies always attracted the most attention. In the Soviet Union, this could be dangerous. The Soviet Union attempted with varying severity to control the lives and thoughts of its citizens, and music was considered an important tool by the State in this. However, it was also considered a potential threat. There were many composers and musicians who vanished into the Gulags during Shostakovich's life and it was a real threat which hung over his entire life and greatly influenced it. Each impending premiere of a symphony by Shostakovich generated enormous anticipation by the public and very close scrutiny from the state. The official reaction to each new symphony, whether positive or a condemnation, had a severe impact on the life and career of Shostakovich. Many of the symphonies were composed during the murderous rule of Stalin with his vast purges and genocide, a couple during the Nazi invasion of the USSR, the most bloody warfare in history, a couple were written during a relative thaw in persecution, a couple during a period of failed rebellion in Eastern Europe against Soviet domination and a couple during the long, cold stagnation of the USSR. The biographical and global history captured in the Shostakovich symphonic cycle is gripping, compelling human drama. And it is honest portrait of humanity, not a simplistic tale of artistic resistance to oppressive power, but of a much more complex, human reality. But at first, there was one symphony which was composed at the most innocent time for Shostakovich. His first symphony was composed at the age of 19 as a graduation exercise at the St. Petersburg Conservatory. During the mid-20's in the new Soviet Union, there was a very brief period of social and artistic freedom, when many thought the liberal ideals of socialism would be realized. There was a lot of experimentation and optimism in music, so for a teenage Shostakovich, for whom the horrors of the first world war and the civil war were very distant, and whom was considered a very promising composer and pianist, the future seemed very bright. The first symphony reflects this, it is his most cheerful symphony, and shows various musical influences and interests of Shostakovich at the time, particularly from Stravinsky, but sounds unmistakably like Shostakovich. With brilliant orchestration, magnificent construction, and great emotional contrast this first symphony was an extrordinary masterpiece from such a young composer. The work achieved very successful international performances in the years after its premiere and placed Shostakovich in the musical conciousness of the West. Today we hear a 1973 recording with the Soviet conductor Kirill Kondrashin and the Moscow Philharmonic.
Symphony No. 1 Op. 10
Dmitri Shostakovich/Moscow Philharmonic Orchestra, Kirill Kondrashin - Les 15 Symphonies vol. 1 - Le Chant du Monde
We continue with music from former Soviet republics, Tadjikistan, Ukraine, Latvia, Estonia, Armenia, Azerbaijan, Georgia, Turkmenistan.
Doira Zan
Davlatmand Kholaf, Abdoussattar Abdoullaev - Music from East Tadjikestan - Kargha-e-Mousighi
Naz Par
Arsen Petrosyan - Charentsavan: Music for Armenian Duduk - Pomegranate Music
Yes Siretzi/Djaradess Badig Badig
The Music Masters of Armenia - Traditional & Sacred music & songs - World Village
Ghmerto Mets Gadmomkhede
Trio Kavkasia - The Fox and the Lion - Traditional Crossroads
Buvayte Zdorovi
DakhaBrakha - Light - DakhaBrakha
Milas Dziesma
Ilgi - Beyond the River - EMI
Recitativo accompagnato
Galina Grigorjeva/Allar Kaasik - In paradisum - RAM
Bayati Kurd
Sevda Alekperzadeh - Sevdali Dunya - Network
Not from a former Soviet Republic, but I couldn't resist popping in this classic from Miles Davis after the jazz-mugham of Sevda, I think it fits really well.
All Blues
Miles Davis, Julian Adderley, John Coltrane, Bill Evans, Paul Chambers, Jimmy Cobbs - Kind of Blue - Columbia
Aisha
Ashkhabad - City of Love - Real World