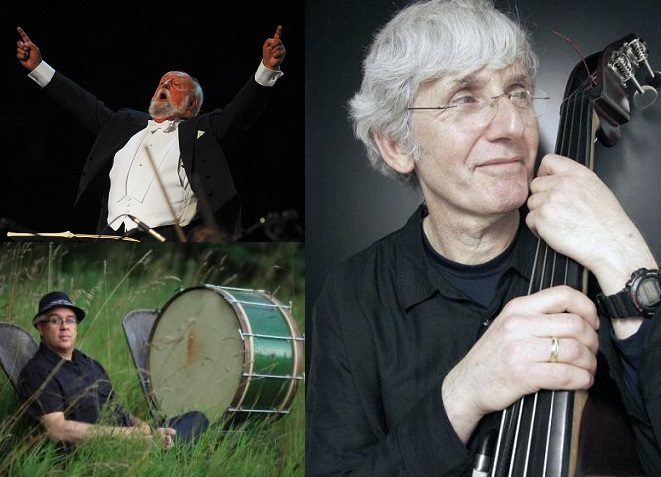 David Dalle
Thursday November 24th, 2016 with David Dalle
Penderecki's 7th symphony "Seven Gates of Jerusalem"; new Jazz from Mark Dresser and his septet; Latin-Jazz-Klezmer fusion from Roberto Juan Rodriguez; Tanya Tagaq
Today we near the end of the Penderecki symphony cycle with his large scale Symphony no. 7 "Seven Gates of Jerusalem" from 1996. Originally conceived as an oratorio and commissioned for the 3000th anniversary of the founding of Jerusalem, it was composed for a very large orchestra, three choirs, and 6 soloists. After its premiere in Jerusalem in 1997 Penderecki decided to call it his 7th symphony, in the tradition of Oratorio-symphonies like Mahler's 8th. The number 7 is pervasive throughout the work, 7 movements, with many 7-note phrases and frequent 7-beat metres. The "seven gates" is more metaphorical and spiritual in nature, and Penderecki approached the use of texts from a Christian perspective, using mostly Psalms of David and other snippets from the Old Testament. The work ranges widely in mood from holy terror to jubilation and hope. We will also hear: a new album from double-bassist Mark Dresser "Sedimental You" which features a septet he assembled with Nicole Mitchell on flutes, Marty Ehrlich on clarinets, David Morales Boroff on violin, Michael Dessen on trombone, Joshua White on piano, Jim black on drums and himself on double-bass. An older recording with Cuban-American drummer Roberto Juan Rodriguez who mixes Latin jazz and Klezmer music. Finally we will also hear from Tanya Tagaq who is performing at the NAC this Saturday.
Symphony No. 7 "Seven Gates of Jerusalem"
Krzysztof Penderecki/Iwona Hossa, Izabella Klosinska, Agnieszka Rehlis, Rafal Bartminski, Wojciech Gierlach, Slawomir Holland, The Choir of the Podlasie Opera and Philharmonic in Biatystok, The Polish Sinfonia Iuventus Orchestra, Krzysztof Penderecki - Symphony No. 7 "Seven Gates of Jerusalem" - Dux
Jerusalem Market
Roberto Juan Rodriguez - El Danzon de Moises - Tzadik
Sedimental You
Mark Dresser Seven - Sedimental You - Clean Feed Records

Tulugak
Tanya Tagaq - Animism - Six Shooter Records

Will Well (for Roswell Rudd)
Mark Dresser Seven - Sedimental You - Clean Feed Records

Cold
Tanya Tagaq - Retribution - Six Shooter Records


There are just a handful of tickets left for Tanya Tagaq!
https://nac-cna.ca/en/event/14242