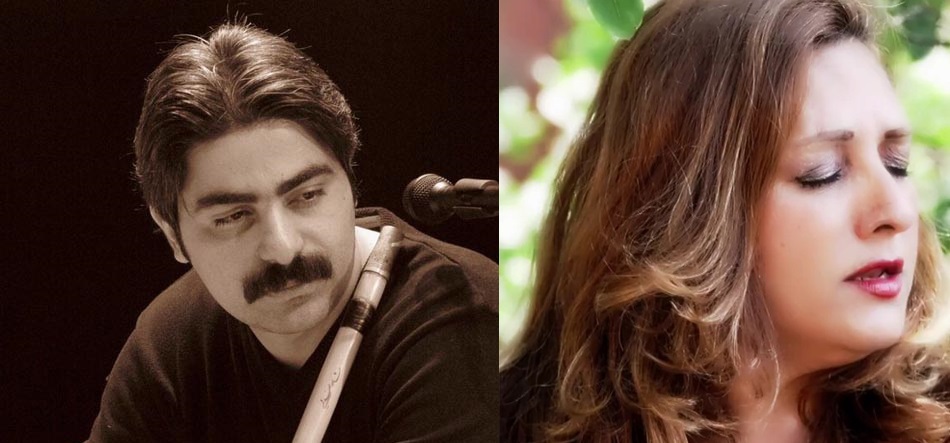 David Dalle
Thursday October 20th, 2016 with David Dalle
Persian and Kurdish music with the Shaho Andilibi, Shila Nahrvar and ensemble who will be performing in Ottawa. Penderecki's triumphant 5th symphony.
Today we will hear some Persian and Kurdish music with ney player Shaho Andilibi and singer Shila Nahrvar, who will be performing with their ensemble in Ottawa on Oct 28th. More info:
https://www.facebook.com/events/1129960040420047/
We also continue the Penderecki symphony cycle with his 5th symphony from 1992, commissioned for the 50th anniversary of Korea's liberation from Japan, it quotes Korean folk melodies and is ultimately triumph over adversity, echoing famous 5ths such as Beethoven's and Shostakovich's.
Unknown
Shila Nahrvar, Shaho Andalibi Ensemble - Persian Music
Unknown
Shila Nahrvar, Shaho Andalibi Ensemble - Persian Music
Unknown
Shaho Andalibi - Persian Music
Unknown
Faraj Alipour - Persian Music
Komel Kah
Ali Akbar Moradi, Parvin Namazi - Kurdaneh - QuarterTone Productions
Rewend
Hawniyaz - Hawniyaz - Harmonia Mundi

Tasnif Charukeh
Sa'dollah Nasiri, Sa'id Farajpuri, Hoseyn Hamidi, Sadeq Ta'rif - Zhuan - Mahoor Institute of Culture and Art
Going Home Star Act I scene 6: Charlie's Escape/Star Children
Christos Hatzis/Tanya Tagaq, Steve Wood and the Northern Cree Singers, Winnipeg Symphony Orchestra, Tadeusz Biernack - Going Home Star: Truth and Reconciliation - Canadian Music Centre

Symphony No. 5 "Korean"
Krzysztof Penderecki/The Polish Sinfonia Iuventus Orchestra, Krzysztof Penderecki - Symphonies Nos. 4 & 5 - Dux
Piano Sonata no. 3 in a minor Op. 28
Sergei Prokofiev/Emil Gilels - Great Pianists of the 20th century vol. 35 - Philips