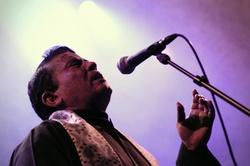 David Dalle
Thursday July 7th, 2016 with David Dalle
Dreaming of musical festivals in the south of France...
I was researching an Egyptian singer, Sayed Emam, who has sung with a group called the Egyptian Project. There is a short live track on their debut album which features a stunning 3 minute improvised introduction by him, then it ends. Certainly the introduction led to a great rousing song with great percussion. In my research I discovered he is singing in three concerts during a week long festival in the beautiful Roman town of Arles on the Mediterranean coast in the South of France just next week. And this festival is full of favourite musicians! Anouar Brahem, Ballaké Sissoko and Vincent Segal, Emir Kusturica, Yuri Buenaventura, Bachar Mar-Khalifé. I can't help but daydream...
http://www.suds-arles.com/en/
Rouhi (live)
Egyptian Project - Ya Amar - Six Degrees
Madonna
Bachar Mar-Khalife - Ya Balad - InFine
Ya Balad
Bachar Mar-Khalife - Ya Balad - InFine
Ederlezi
Vaska Jankovska, Goran Bregovic - Le Temps des Gitans - Philips
Elegy for the Arctic
Ludovico Einaudi - Greenpeace International - Greenpeace International

Ashen Sky
Anouar Brahem, Francois Couturier, Klaus Gesing, Bjorn Meyer, Orchestra della Svizzera Italiana, Pietro Mianiti - Souvenance - ECM
Musique de Nuit
Ballake Sissoko & Vincent Segal - Musique de Nuit - Six Degrees
Sori
Kasse Mady Diabate, Makan Tounkara, Lansine Kouyate, Ballake Sissoko, Vincent Segal - Kirike - Six Degrees
Ndombolo
Siama Matuzungidi - Rivers - Independent

Indiferencia
Yuri Buenaventura - Vagabundo - Mercury
El guerrero
Yuri Buenaventura - Vagabundo - Mercury
Lubenica
Emir Kusturica & The No Smoking Orchestra - Unza Unza Time - Cabiria/Universal
Tis Agapis Sou To Risko
Goran Bregovic and His Wedding and Funeral Band - Alkohol - Wrasse
Fejat's Cocek
Fejat Sedjic Orkestar - Guardian Angel and Lost Lamb - Biveco
Yarab Enta Elghany
Sayed Emam - Unknown