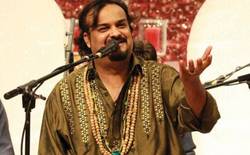 David Dalle
Thursday June 23rd, 2016 with David Dalle
Music of immigrants, emigrants, diasporas and aficionados with Ethiopian music from Boston, Afrojazz from Helsinki, Congolese guitar infused with South Indian music from Minneapolis. New music from Steve Reich and a tragic farewell to Amjad Sabri.
Today's show we look at music of immigrants, migrants, diasporas with new albums including the Debo Band, Ethiopian music from Boston, with their terrific sophomore album "Ere Gobez". The Helsinki-Cotonou Ensemble features a Finnish guitarist who became obsessed with Beninese music and traveled to Cotonou to meet and play with Beninese musicians and this ensemble mixing Finnish and Beninese musicians was born. Congolese guitarist Siama Matuzungidi, who is now based in Minneapolis, and his first solo album "Rivers" which features a number of musicians from diverse musical origins and most interestingly a Carnatic singer and Veena player which mixes in surprisingly well with Matuzungidi's Soukous foundation. We will also hear a recent piece from Steve Reich in a new recording with the New York based Ensemble Signal called "Radio Rewrite" which uses material taken from two songs by Radiohead "Everything in Its Right Place" and "Jigsaw Falling into Place" into a chamber piece. Last week's show featuring Colin Stetson's Reimagining Gorecki's 3rd symphony was very dark thematically and musically. For that reason, I wanted this week to be much brighter and happier. But the world continues to break my heart. I am horrified and extremely angry that Amjad Sabri, the great Qawwali singer and heir to his father Ustad Ghulam Farid Sabri and a centuries old lineage of Qawwali singers, was assassinated by the Pakistani Taliban in Karachi yesterday. My soul weeps, and we end with his glorious singing.
Kehulum Abliche
Debo Band - Ere Gobez - FPE Records

Oromo
Debo Band - Ere Gobez - FPE Records

Blue Awaze
Debo Band - Ere Gobez - FPE Records

Missin'Ya (Night in Tunisia)
Ibrahim Maalouf - Diasporas - Mi'ster
Ile Baba Va
Helsinki-Cotonou Ensemble - Fire, Sweat and Pastis - No Problem!

Maisha Mazuri
Siama Matuzungidi - Rivers - Independent

Yemaya
Fatoumata Diawara & Roberto Fonseca - At Home - Live in Marciac - Jazz Village
Mouhamadou Bamba
Orchestre Baobab - Bamba - Stern's
Transit
Mohamed Abozekry & Heejaz Extended - Ring Road - Jazz Village
I Am Your Gummy Bear
Fanfare Ciocarlia - Balkan Brass Battle - Asphalt Tango
One For Oscar
Chick Corea - Oscar, with Love - Two Lions
Oyayeyo
Siama Matuzungidi - Rivers - Independent

Radio Rewrite
Steve Reich/Ensemble Signal, Brad Lubman - Double Sextet/Radio Rewrite - Harmonia Mundi

Taj Dare Haram
Amjad Sabri - Pakistani Television Broadcast