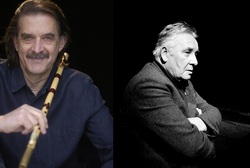 David Dalle
Thursday May 12th, 2016 with David Dalle
Gorecki's 4th Symphony; solo ney with Hossein Omoumi
Today we will begin with some Persian classical music for solo Ney with neyzen Hossein Omoumi. He is joined by Madjid Khaladj on the tombak and Daf in a performance in Dashti. We will also hear some Iranian Kurdish music with Said Farajpouri, Sadollah Nasiri, Hoseyn Hamidi, and Sadeq Tarif. In the 2nd hour we will hear a work which was a very long time in coming: Henryk Gorecki's 4th symphony. Gorecki's magnificent and haunting 3rd symphony "Symphony of Sorrowful Songs" (one of my favourite works) was composed in 1976. In 1992, Nonesuch released a new recording of the symphony which, as improbable fortune would have it, became a best seller, selling over a million copies--almost completely unheard of for a classical recording, particularly a 20th century symphony. This generated enormous interest in Gorecki, then still a fairly obscure Polish composer, but Gorecki remained aloof from his newfound fame. This was occurring more than 16 years after he had composed the symphony, and, despite the many requests to compose a new symphony, he was not interested in trying to repeat this unexpected success. By 2006 he had completed a 4th symphony in short piano score with indications for instrumentation, but he was very reluctant to bring it to completion and performance. It was scheduled to be premiered in 2010 with the London Philharmonic, but the work was not progressing and Gorecki died in November 2010 with the symphony unfinished. Gorecki's son, the composer Mikolaj Gorecki, completed the orchestration and prepared the symphony for performance. His knowledge was often very personal, such as knowing Gorecki wanted to use three bass drums because of comments he made when he played the symphony to his son on the piano in 2006. Henryk Gorecki's 4th symphony was finally premiered on April 12, 2014 by the London Philharmonic, and a recording of that premiere was released by Nonesuch this past winter. This work is not at all like his 3rd. Gorecki had stated repeatedly he had no interest in composing a similar work, though it features elements found in his 2nd symphony and other later works. Unlike his 2nd and 3rd symphonies, it is a purely instrumental work in four unbroken movements and is subtitled "Tansman Episodes", after Alexandre Tansman, an obscure but exceptional Polish composer from the early and mid-20th century. Gorecki translated Tansman's name into a theme which is quite prominent throughout the work. He also makes reference to Karol Syzmanowski's "Stabat Mater", the music of John Adams, references to Polish folk music, and one unexpected reference to Siegfried's theme from Wagner's Ring. It uses a large orchestra but moves from full orchestra to small chamber groups such as piano and solo cello. The result is dramatic, moving from eerie and haunting sections to sardonic outbursts. Beautiful, yet I find it an anxiety-ridden symphony. It echoes Shostakovich and an earlier age of anxiety, perhaps being music suitable for this new age of anxiety.
Dashti: Pishdaramad, Daramad
Hossein Omoumi and Madjid Khaladj - Ney Solo - Mahoor Institute of Culture and Art
Dashti: Choupani, Saranj
Hossein Omoumi and Madjid Khaladj - Ney Solo - Mahoor Institute of Culture and Art
Dashti: Zarbi
Hossein Omoumi and Madjid Khaladj - Ney Solo - Mahoor Institute of Culture and Art
Dashti: Deilaman, Saranj
Hossein Omoumi and Madjid Khaladj - Ney Solo - Mahoor Institute of Culture and Art
Dashti: Reng-e Dashti
Hossein Omoumi and Madjid Khaladj - Ney Solo - Mahoor Institute of Culture and Art
Tasnif Varan
Sa'dollah Nasiri, Sa'id Farajpuri, Hoseyn Hamidi, Sadeq Ta'rif - Zhuan - Mahoor Institute of Culture and Art
Khadejeh
Anonymous - Hot Bandari Dance Music Vol. 2 - Caltex
Nemdah Laktab
Lotfi Jormana Group - Music of Islam vol. 4 Folkoric Music of Tunisia - Celestial Harmonies
Raeyan el Xil
Houria Aichi - Algerie - Voix de Femmes - Blue Silver
Hasna
Aisha Mbarek, Choueiba, Delga - Mauritanie: Chants de femmes Nemadi - Buda
Naqqim Dagh Timshar
Bombino - Azel - Partisan Records/Knitting Factory Records
N'Kapalema
Ballake Sissoko & Vincent Segal - Musique de Nuit - Six Degrees
Eroberung der Stille, Teil II
Faust - Rien - Table of the Elements
Symphony No. 4 "Tansman Episodes"
Henryk Gorecki/London Philharmonic Orchestra, Andrey Boreyko - Symphony No. 4 - Nonesuch

We will end the show with some music of Alexandre Tansman and his Trois Preludes en forme de Blues from 1937 which he composed as a gift for a friend. Alexandre Tansman was an exceptional composer and pianist whose music is being rediscovered. We will hear more of his music, including some of his 9 symphonies, on future shows.
Trois Preludes en forme de Blues no. 2
Alexandre Tansman/Margaret Fingerhut - Works for Solo Piano - Chandos
Trois Preludes en forme de Blues no. 3
Alexandre Tansman/Margaret Fingerhut - Works for Solo Piano - Chandos