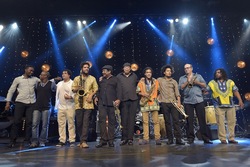 David Dalle
Thursday February 18th, 2016 with David Dalle
Cuban Night in France: Chucho Valdes leads a captivating tribute to his legendary band Irakere in the Marciac Jazz Festival
My second show featuring a magnificent live recording of a great Cuban pianist. Today, Chucho Valdés leads a tribute to his groundbreaking, legendary band Irakere in a concert recorded at the Marcia Jazz Festival in France. He leads a band of 9 Cuban musicians, most of whom are too young to remember Irakere's trailblazing over 3 decades ago. 3 percussionists, 2 saxophonists, 3 trumpeters, doublebass and led by Chucho on the piano of course. Simply a wonderful, wonderful recording which I can't stop listening to. We will also hear other Cuban music and the Ethnic Heritage Ensemble. Listen to last week's Cuban Night in Japan with a stunning concert from Omar Sosa on-demand:
http://cod.ckcufm.com/programs/105/25887.html
The Ethnic Heritage Ensemble will be performing tonight at the Mercury Lounge, founder Kahil El'Zabar will be joined by two great musicians, Craig Harris on trombone and Hamiet Bluiett on baritone sax.
https://www.facebook.com/events/557142687786959/
http://www.mercurylounge.com/
So Low But Not Alone
Ethnic Heritage Ensemble - Freedom Jazz Dance - Delmark
The Soul And The Atma
John Handy, Ali Akbar Khan, Zakir Hussain - Karuna Supreme - MPS
Thank you Matthew for filling in. Chucho Valdes beging at 2:42 or 42 minutes on-demand!
Juana 1600
Chucho Valdes - Tribute to Irakere - Jazz Village

Lorena's Tango
Chucho Valdes - Tribute to Irakere - Jazz Village

Congadanza
Chucho Valdes - Tribute to Irakere - Jazz Village

Afro-Comanche
Chucho Valdes - Tribute to Irakere - Jazz Village

The Awakening of 2012
Ethnic Heritage Ensemble - Black is Back: 40th Anniversary Project - Katalyst Entertainment
Son de la loma
Cuarteto Patria & Manu Dibango - CubAfrica - Celluloid
Bolingo ya bougie
Franco & le tpok Jazz - Francophonic vol. 1 - Sterns Africa
Bailando Asi
Irakere - Cubalive! - Rounder
Be Bop
Ethnic Heritage Ensemble - Black is Back: 40th Anniversary Project - Katalyst Entertainment