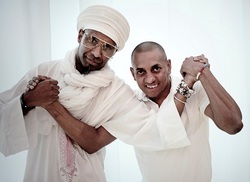 David Dalle
Thursday February 11th, 2016 with David Dalle
Cuban Night in Japan: Omar Sosa live in Yokohama
The first of 2 shows featuring wonderful live recordings from two of Cuba's greatest pianists. Today, Omar Sosa performing with Venezuelan percussionist Gustavo Ovalles in the famous Motion Blue jazz club in Yokohama, Japan. Simply a staggering recording! Also a new recording from French saxophonist Raphael Imbert who made a pilgrimage to the American south starting in New Orleans to discover the roots of Blues. He plays with his ensemble Compagnie Nine Spirit a mix of his own compositions and American repertoire with guests Alabama Slim, Big Ron Horton, Leyla McCalla. A mix of other Cuban and African music to round off the show.
Black Reflection
Omar Sosa & Gustavo Ovalles - Ayaguna - Ota Records
Una Tradicion Negra
Omar Sosa & Gustavo Ovalles - Ayaguna - Ota Records
Iyawo/Dias de Iyawo
Omar Sosa & Gustavo Ovalles - Ayaguna - Ota Records
Toridanzon
Omar Sosa & Gustavo Ovalles - Ayaguna - Ota Records
MLK Blues
Raphael Imbert & Co - Music Is My Home - Jazz Village

Black Atlantic
Raphael Imbert & Co - Music Is My Home - Jazz Village

Latibonit
Wesli - Ayiti etoile Nouvelle - Wes Urban Productions

Make That Guitar Talk
Raphael Imbert & Co - Music Is My Home - Jazz Village

Mali Za
Adama Yalomba - Waati Sera - Studio Mali Recordings

Po Boy
Raphael Imbert & Co - Music Is My Home - Jazz Village

Harkass
Adama Yalomba - Waati Sera - Studio Mali Recordings

Mali Ba
Kandia Kouyate - Renascence - Sterns Africa

Maimouna
Kasse Mady Diabate - Kassi Kasse - Corason
Kora-Son
Patato feat. Samba Mapangala - The Legend of Cuban Percussion - Six Degrees
Spiral Mist
Abdullah Ibrahim - The Song Is My Story - Intuition
Twelve By Twelve
Abdullah Ibrahim - The Song Is My Story - Intuition
Shadows Lean Against My Song
Abdullah Ibrahim - The Song Is My Story - Intuition
The Song Is My Story - URA
Abdullah Ibrahim - The Song Is My Story - Intuition
Ba Kristo
Kekele - Kinawana - Stern's
Mwana Mazembe
Orchestra Super Mazembe - Mazembe@45RPM - Stern's