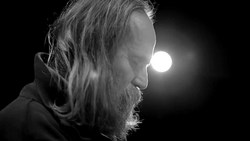 David Dalle
Thursday December 17th, 2015 with David Dalle
The Music of Lubomyr Melnyk Part I
The music of Lubomyr Melnyk Part I: Today we will focus on some of the greatest, yet rarest music I know, with the unparalled and staggeringly beautiful music of Lubomyr Melnyk. Lubomyr Melnyk is a Ukrainian-Canadian pianist and composer who has spent his life developing a unique piano technique he named "Continuous Music" which allows him to play enormous endless swathes of notes effortlessly on the piano indefinitely without tiring. Melnyk was a classically trained pianist who was hit by an almost mystical revelation when he first heard Terry Riley's "In C" in 1968. This led him to develop his unique piano technique and music during the 1970's and which he has championed ever since…to a musical world which would not listen. Melnyk remained an extremely obscure figure, almost unknown by most musical establishments yet playing his music, eager to teach his technique, composing for and performing with other instruments. However, in the past few years more musicians have been encountering his music and he has started to receive invitations to music festivals in Germany and in 2013 his music has finally found enthusiastic support from the London-based label Erased Tapes which have just released their 3rd album of his music.
http://www.erasedtapes.com/
This is transcendent music filled with exquisite longing, achingly beautiful. Mystic Sufism on the piano. If you have not heard the music of Lubomyr Melnyk, you have never heard anything like it. We will hear from both recent and much older recordings. In Part II we will hear from his brand new release.
The Six Day Moment
Lubomyr Melnyk - Corollaries - Erased Tapes

Awaiting
Lubomyr Melnyk - Evertina - Erased Tapes

Le Miroir D'Amour
Lubomyr Melnyk/Lubomyr Melnyk, Peter Broderick - Corollaries - Erased Tapes

To The Living, The Dead, And To Those Yet Unborn
Lubomyr Melnyk/Lubomyr Melnyk, Christine Frolick, Array Ensemble - To the Living, The Dead, And To Those Yet Unborn - Bandura Records

Beethoven was baptized on Dec. 17th 1770, most likely he was born on Dec. 16th but we don't know for sure. So for his 245th Baptismal day, we hear a truly great, yet often overlooked work, his Choral Fantasy for piano, choir, and orchestra. This work from 1808 ends with a brilliant ode to music with a set of variations on a theme very similar to the Ode to Joy theme from his 9th symphony. The pieces share a lot of kinship and this work is really the seed which would grow into the 9th symphony 16 years later. It begins with an Adagio on the solo piano which probably is similar to what Beethoven improvising on the piano would have sounded like, the orchestra joins and we have essentially a piano concerto before the choir joins in much later. It is a wonderful, unique piece in Beethoven's oeuvre.
Fantasia in C for Piano, Chorus & Orchestra Op. 80
Ludwig Van Beethoven/Helene Grimaud, Swedish Radio Symphony Orchestra, Swedish Radio Choir, Esa-Pekka Salonen - Credo - Deutsche Grammophon