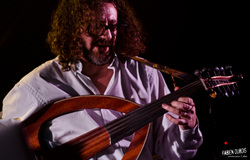 David Dalle
Thursday June 25th, 2015 with David Dalle
Global jazz fusion with Jean-Pierre Smadja, sitar with Kartik Seshadri, Mozart with Marc-Andre Hamelin and more
Today a wide and eclectic mix of music including new fusion music from Tunisian Oud player Jean-Pierre Smadja which features music for Oud, Electric Oud, electronics and a diverse roster of guest musicians. Also Marc-André Hamelin's new Mozart recording, his first. This is a very exciting release because Marc-André Hamelin is actually one of the greatest living performers of Mozart.
Thumri in Rag Mishra Piloo
Kartik Seshadri, Bikram Ghosh - Raga: Rasa - Traditional Crossroads
Fantasia in d minor K397
Wolfgang Amadeus Mozart/Marc-Andre Hamellin - Piano Sonatas - Hyperion


Real Family
Fatoumata Diawara & Roberto Fonesca - At Home - Live in Marciac - Jazz Village

Maracaibo Oriental
Estrellas de Areito - Los Heroes - World Circuit/Nonesuch
Nubian Steps
Issa Hassan - So bouzouk - Institut du Monde Arabe
Variation sur un theme
Smadj - Spleen - Jazz Village

Smadjibe
Smadj - Spleen - Jazz Village

They Don't Care About Us
Ibrahim Maalouf - Diagnostic - Mi'ster
The End
Smadj - Spleen - Jazz Village

Your Soul
Ibrahim Maalouf - Diagnostic - Mi'ster
Everything or Nothing
Ibrahim Maalouf - Diagnostic - Mi'ster
Nuvole Bianche
Ludovico Einaudi & Alessia Tondo - Taranta Project - Ponderosa

Rondo in a minor K511
Wolfgang Amadeus Mozart/Marc-Andre Hamellin - Piano Sonatas - Hyperion


TONIGHT! This great and beautiful mix of Corsican polyphony with Trumpet and Bandoneon with one of the most famous ensembles from Corsica will be performing at the Ottawa Jazz Festival!
http://ottawajazzfestival.com/artists/paolo-fresu-and-daniele-di-bonaventura/
Figliolu d'ella
A Filetta, Paolo Fresu, Daniele di Bonaventura - Mistico Mediterraneo - ECM