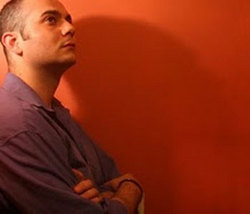 David Dalle
Thursday June 11th, 2015 with David Dalle
Guest composer Constantine Caravassilis live in studio
Today we are honoured to have composer and pianist Constantine Caravassilis join us live in studio to talk about the premiere of Caravassilis' new piece "Silver Angel", a concerto for bassoon and string orchestra, which is being premiered by Ottawa's Thirteen Strings with soloist Nadina Mackie Jackson this Friday. For more information, please visit:
https://thirteenstrings.ca/
or
https://www.facebook.com/ThirteenStringsOrchestra
From the score for "Silver Angel": Silver Angel is a two-movement concerto for solo bassoon and string orchestera and was commissioned by the Thirteen Strings Chamber Orchestra and Canada's premiere bassoonist, Nadina Mackie Jackson. The title refers to Archangel Gabriel, an important figure featured in both the Old and New Testaments, who is also very prominent in the Islamic tradition. Both in Christianity and in Islam, Gabriel has the role of the messenger to various prophets and to specific people. The first movement, subtitle Prayer Among the Ruins, is a requiem to the people that have lost their lives during the catastrophic events that took place in 2014-2015 in the Middle East. It was composed while members of ISIS were beheading people and destroying a number of ancient ruins, including the ancient Assyrian city of Nimrud. While reports of the violent events where coming in, my late grandmother's health started to deteriorate rapidly, bringing a number of her stories related to the Nazi occupation in Greece to the surface. The more recent events as well as my grandmother's memoirs are paralleled in the movement with the requiem being interrupted by the voice of the Archangel which introduces us to sounds from the Eastern Mediterranean, Asia Minor and Middle Eastern regions, signaling to a desideratum for peace among all nations and peoples. Tragedy dominates, however, with the orchestra interrupting the voice of the Archangel with a number of tragic and violent passages. A New Dawn serves as a contrasting second movement, and the message of hope permeates. This movement was completed the day that my grandmother's death was announced, and uses the melody from one of her own songs that she sung to her grandchildren. In an attempt to celebrate a long life of a very positive, energetic and cheerful person, I turned my grandmother's melody to a Manheim rocket and used a number of western musical elements including baroque, jazz, and a touch of tango, all of which culminate to a joyful dance, just as she would have liked it. A number of sarcastic entrances from the bassoon are in place to lighten the atmosphere created by the first movement. Just before this big feast comes to an end, we are reminded of the struggles of the past through a deeply-felt lamenting section that is reminiscent of ecclesiastical music from the Byzantine era.
Rhapsodie Impromptue for saxophone and piano
Constantine Caravassilis/Stathis Mavrommatis, Christina Panteli - Composer's Archive

Lumen de Lumine
Constantine Caravassilis/Maria Pikoula - Composer's Archive

Sappho de Mytilene i Mon chant
Constantine Caravassilis/Cristina Velasco, Alheli Pimienta, Chad Spears - Composer's Archive

Sappho de Mytilene ii Toujours Eros
Constantine Caravassilis/Cristina Velasco, Alheli Pimienta, Chad Spears - Composer's Archive

Sappho de Mytilene iii Vierge
Constantine Caravassilis/Cristina Velasco, Alheli Pimienta, Chad Spears - Composer's Archive

Sappho de Mytilene iv Adonis
Constantine Caravassilis/Cristina Velasco, Alheli Pimienta, Chad Spears - Composer's Archive

Sappho de Mytilene v Messangeur du printemps
Constantine Caravassilis/Cristina Velasco, Alheli Pimienta, Chad Spears - Composer's Archive

After You've Gone
Ailsa McCreary - When Evening is Nigh - Independent

Violin Concerto in d minor WoO 1
Robert Schumann/Isabelle Faust, Freiburger Barockorchester, Pablo Heras Casado - Schumann - Harmonia Mundi