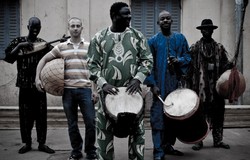 David Dalle
Thursday March 12th, 2015 with David Dalle
The BKO Quintet from Bamako and other mostly African music
The debut album from the BKO Quintet. Comprised of a quartet of Malian musicians, Fassara Sacko, Nfaly Diakite, Ibrahima Sarr, Abdoulaye Konoe along with French percussionist Aymeric Krol. This is a heavy percussion-driven album with the dunun khassonke and djembe drums with the percussion of Aymeric Krol, mixed with the different stringed n'gonis from Bambara griot tradition and Bambara hunter tradition and forceful vocals from Sacko and Diakite. A tremendous new addition to the rich Malian discography.
Beleba chima
BKO Quintet - Bamako Today - Buda

Djelike
BKO Quintet - Bamako Today - Buda

Kongo Kongo
BKO Quintet - Bamako Today - Buda

Wurende
Famoudou Konate & Ensemble Hamana Dan Ba - Guinee: percussions et chants Malinke - Buda
Wax
Carlou D - A New Day - World Village

Bobo-Dioulasso
Cheikh Lo featuring Oumou Sangare - Bambay Gueej - World Circuit/Nonesuch
Xel
el Hadj N'Diaye - Xel - World Village
Sacred Bird
BKO Quintet - Bamako Today - Buda

Tapha Niang
Toumani Diabate's Symmetric Orchestra - Boulevard de l'Independance - World Circuit/Nonesuch
Thiapathioly
Etoile de Dakar feat. Youssou N'Dour - Thiapathioly - Stern's
These two last epics, both showing the incredible power and reach of a great Wolof voice. Wolof singing from Moussa Niang and the deep and powerful Sengalese Sabar drums joined with Malian Mande music is a divine match. Youssou N'Dour's searing Thiapathioly was, sadly, the high watermark which came far too early for this greatest of African singers. The volcanic intensity of his voice has just been mired in overly Western pop-produced music. Youssou should make an album with Toumani and his Symmetric Orchestra.
Kasserine
Anouar Brahem, Francois Couturier, Klaus Gesing, Bjorn Meyer, Orchestra della Svizzera Italiana, Pietro Mianiti - Souvenance - ECM

Metamorphosen - Study for 23 solo strings
Richard Strauss/New Philharmonia Orchestra, Sir John Barbirolli - Mahler/Strauss - EMI
Four Last Songs IV: Im Abendrot
Richard Strauss/Elisabeth Schwarzkopf, Radio-Symphonie-Orchester, Berlin, George Szell - Four Last Songs - EMI