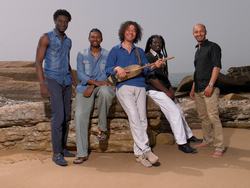 David Dalle
Thursday February 19th, 2015 with David Dalle
Lots of new music with Reggae from Ghana, Fado from Portugal, University of Gnawa from Morocco and more
Today we will hear some new recordings from Ghanian Reggae artist Selasee, Aziz Sahmaoui and his University of Gnawa, Fado singer Antonio Zambujo, Jazz pianist Justin Kauflin, Piazzolla's tremendous suite "Histoire du Tango" arranged for harp, bandoneon, and violin with Ann Hobson Pilot, J.P. Jofre, Lucia Lin. I might throw in some Ravi Shankar as well, because Ravi Shankar. Astor Piazzolla's 1986 composition "Histoire du Tango", is a suite of four movements in which he wanted to convey the history of Tango from 1900 to 1986, he outlined a program for the movements: Bordello, 1900: The tango originated in Buenos Aires in 1882. It was first played on the guitar and flute. Arrangements then came to include the piano, and later, the concertina. This music is full of grace and liveliness. It paints a picture of the good natured chatter of the French, Italian, and Spanish women who peopled those bordellos as they teased the policemen, thieves, sailors, and riffraff who came to see them. This is a high-spirited tango. Cafe, 1930: This is another age of the tango. People stopped dancing it as they did in 1900, preferring instead simply to listen to it. It became more musical, and more romantic. This tango has undergone total transformation: the movements are slower, with new and often melancholy harmonies. Tango orchestras come to consist of two violins, two concertinas, a piano, and a bass. The tango is sometimes sung as well. Night Club, 1960: This is a time of rapidly expanding international exchange, and the tango evolves again as Brazil and Argentina come together in Buenos Aires. The bossa nova and the new tango are moving to the same beat. Audiences rush to the night clubs to listen earnestly to the new tango. This marks a revolution and a profound alteration in some of the original tango forms. Modern-Day Concert: Certain concepts in tango music become intertwined with modern music. Bartok, Stravinsky, and other composers reminisce to the tune of tango music. This [is] today's tango, and the tango of the future as well.
Jilala
Aziz Sahmaoui & University of Gnawa - Mazal - World Village

Yasmine
Aziz Sahmaoui & University of Gnawa - Mazal - World Village

Lawah - Lawah
Aziz Sahmaoui & University of Gnawa - Mazal - World Village

Dya Dya
Bembeya Jazz - Defi & Continuite - Syllart
Mama Africa
Selasee Atiase & Fafa Family - Time for Peace - Independent

Tajaban
Lo'Jo - 310 Lunes - World Village
Mardi Gras in New Orleans
Olympia Brass Band - Ultimate New Orleans Brass Second Line Funk! - Mardi Gras Records
The Second Line
Hustlers Brass Band - Ultimate New Orleans Brass Second Line Funk! - Mardi Gras Records
Grazing in the Grass
Treme Brass Band - Ultimate New Orleans Brass Second Line Funk! - Mardi Gras Records
Histoire du Tango: Bordel 1900
Astor Piazzolla/Ann Hobson Pilot, Lucia Lin - Escualo - Harmonia Mundi

Histoire du Tango: Cafe 1930
Astor Piazzolla/Ann Hobson Pilot, Lucia Lin - Escualo - Harmonia Mundi

Histoire du Tango: Nightclub 1960
Astor Piazzolla/Ann Hobson Pilot, Lucia Lin - Escualo - Harmonia Mundi

Histoire du Tango: Concert d'aujourd'hui
Astor Piazzolla/Ann Hobson Pilot, Lucia Lin - Escualo - Harmonia Mundi

Valsa Do Vai Nao Vas
Antonio Zambujo - Rua Da Emenda - World Village

Cancao De Brazzaville
Antonio Zambujo - Rua Da Emenda - World Village

Epiphany
Justin Kauflin - Dedication - Jazz Village

Tempest
Justin Kauflin - Dedication - Jazz Village

Mother's Song
Justin Kauflin - Dedication - Jazz Village

Mishra Piloo
Ravi Shankar, Chatur Lal - The Ravi Shankar Collection - EMI