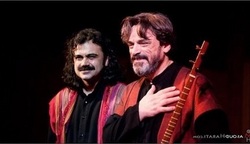 David Dalle
Thursday April 10th, 2014 with David Dalle
Hossein Alizadeh & Pejman Hadadi; Ian Tamblyn's new album The Labrador; Serouj Kradjian's "Trobairitz Ysabella"
Today we hear a wonderful live recording with Hossein Alizadeh and Pejman Hadadi on setar and tombak respectively. These two musicians, among the greatest Iranian musicians of their generation, will be performing in Ottawa this Saturday, 8 p.m. at the University of Ottawa Alumni Theatre. More information at 613-889-4700. I saw them perform together in Ottawa in 2012, it was the most memorable concert of the year. It is a rare opportunity to hear improvised instrumental Persian music in concert, and it is just as passionate and profoundly moving as Persian vocal music, especially in the hands of these masters. It is easy to sound full of hyperbole, but it is actually a realistic view of the music, Persian classical music strives for extremes of emotional expression, it strives for a transcendent, transformative experience. It sounds like music coming from the deepest reaches of the human soul. Do not miss it! We also hear Canadian-Armenian composer Serouj Kradjian's "Trobairitz Ysabella" for soprano and orchestra. It is based on the enigmatic medieval troubador Ysabella from the 12th or 13th centuries. Little is known about her though her possible identity is associated with several different noble women in Greece or Italy. Serouj Kradjian uses the mystery surrounding her history to create a piece which explores several different traditions in several 13th century poems, in Occitane, Hebrew, Arabic, and an English translation of the only song of hers which survives. This premiere recording features the Canadian-Armenian soprano Isabel Bayrakdarian with the Manitoba Chamber Orchestra conducted by Anne Manson.
Isfahan: Within
Hossein Alizadeh & Pejman Hadadi - Monad - Hermes
Isfahan: Thereon
Hossein Alizadeh & Pejman Hadadi - Monad - Hermes
Isfahan: Yearning to Fly
Hossein Alizadeh & Pejman Hadadi - Monad - Hermes
Isfahan: Learning to Fly
Hossein Alizadeh & Pejman Hadadi - Monad - Hermes
Isfahan: Flying
Hossein Alizadeh & Pejman Hadadi - Monad - Hermes
Isfahan: Unclouded
Hossein Alizadeh & Pejman Hadadi - Monad - Hermes
Trobairitz Ysabella: Invitation to the Voyage
Serouj Kradjian/Isabel Bayrakdarian, Manitoba Chamber Orchestra, Anne Manson - Troubadour & the Nightingale - MCO records


Trobairitz Ysabella: A Woman from Perigord
Serouj Kradjian/Isabel Bayrakdarian, Manitoba Chamber Orchestra, Anne Manson - Troubadour & the Nightingale - MCO records


Trobairitz Ysabella: From Jerusalem to Andalusia I
Serouj Kradjian/Isabel Bayrakdarian, Manitoba Chamber Orchestra, Anne Manson - Troubadour & the Nightingale - MCO records


Trobairitz Ysabella: From Jerusalem to Andalusia II
Serouj Kradjian/Isabel Bayrakdarian, Manitoba Chamber Orchestra, Anne Manson - Troubadour & the Nightingale - MCO records


Trobairitz Ysabella: Duel with Elias Cayrel
Serouj Kradjian/Isabel Bayrakdarian, Manitoba Chamber Orchestra, Anne Manson - Troubadour & the Nightingale - MCO records


Postcard from Smyrna
Constantine Caravassilis/Christina Petrowska Quilico - Visions - Centredisques

Migrants Circles
Kyriakos Kalaitzidis, En Chordais, Ensemble Constantinople - The Musical Voyages of Marco Polo - World Village/Harmonia Mundi

Saltarello
Strada - Mediterranea - Independent

Leaving Hebron
Ian Tamblyn - The Labrador - North Track Records


Moravian New Day March
Ian Tamblyn - The Labrador - North Track Records


Quattro Cicci
Adrian Raso & Fanfare Ciocarlia - Devil's Tale - Asphalt Tango

Through the Tickle
Ian Tamblyn - The Labrador - North Track Records


Maria's Brand New Day
Ian Tamblyn - The Labrador - North Track Records