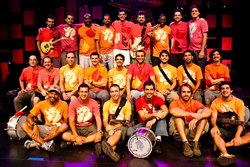 David Dalle
Thursday January 2nd, 2014 with David Dalle
World Cup 2014: Brazil! Monobloco, Villa-Lobos, Ralph Alessi and more!
The 2014 FIFA World Cup is taking place in Brazil. Brazil is an extraordinary diverse and rich musical country, but strangely one which has not been featured in-depth on my show. So for 2014 leading up to the World Cup in June, we will be hearing a lot of Brazilian music, delving into the many styles and traditions from Brazil. We also hear the new album from trumpeter Ralph Alessi, his first as leader, with a quartet formed with Jason Moran (piano), Drew Gress (double bass), Nasheet Waits (drums). Ralph Alessi is well-known for his collaborations with Uri Caine and we hear some of their amazing Mahler-explorations too.
Arrastao Da Alegria
Monobloco - Arrastao Da Alegria - Monobloco
Caio No Suingue
Monobloco - Arrastao Da Alegria - Monobloco
Samba De Arere
Monobloco - Arrastao Da Alegria - Monobloco
Deusa do Ebano/Deus do Fogo e da Justica
Virginia Rodrigues - Nos - Natasha
Erecao
Orquestra Imperial - Carnaval so ano que vem - Totolo
Salamaleque
Orquestra Imperial - Carnaval so ano que vem - Totolo
Das Maravihas Do Mar Fez O Esplendor De Uma Noite
Monobloco - Arrastao Da Alegria - Monobloco
Bachiana Brasileira No. 2
Heitor Villa-Lobos/Simon Bolivar Symphony Orchestra of Venezuela, Eduardo Mata - Orbon, Villa-Lobos, Estevez, Chavez - Dorian
Gobble Goblins
Ralph Alessi, Jason Moran, Drew Gress, Nasheet Waits - Baida - ECM

I Go, You Go
Ralph Alessi, Jason Moran, Drew Gress, Nasheet Waits - Baida - ECM

11/1/10
Ralph Alessi, Jason Moran, Drew Gress, Nasheet Waits - Baida - ECM

Symphony No. 5, funeral march
The Uri Caine Ensemble - Gustav Mahler in Toblach - Winter & Winter
I often think they have merely gone out! from 'songs of the death of children'
The Uri Caine Ensemble - Gustav Mahler in Toblach - Winter & Winter
Now will the sun rise as brightly. from 'songs of the death of children'
The Uri Caine Ensemble - Gustav Mahler in Toblach - Winter & Winter
Introduction/Symphony No. 5, adagietto
The Uri Caine Ensemble - Gustav Mahler in Toblach - Winter & Winter