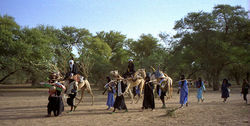 David Dalle
Thursday June 27th, 2013 with David Dalle
New releases from Kenya, Niger, Mali, Israel and more
Today's focus is almost entirely African, with new releases from Vieux Farka Toure, Etran Finatawa, Orchestra Super Mazembe. Etran Finatawa is comprised of musicians from two ethnic groups found throughout West Africa, the Tuareg and the Fulani. We will hear some other Tuareg and Fulani musicans as well. The Fulani musicians in particular are from a subgroup found in southern Niger, the Wodaabe Fulani, who possess fascinating cultural practices towards love, marriage, and child raising, and also wonderful music. As part of the show we will take a musical journey with the Fulani from Southern Niger westwards towards the African Atlantic coast.
The new compilation from Orchestra Mazemba features 9 wonderful 45rpm singles from the 70's and 80's never before released on LP or CD. Listen to those guitars!
Naleli Libota
Orchestra Super Mazembe - Mazembe@45RPM - Stern's

Vieux Farka Toure's 4th album is his strongest yet in my opinion, he has found his own mature voice distinct from his famous father.
Kele Magni
Vieux Farka Toure - Mon Pays - Six Degrees

Peace
Vieux Farka Toure - Mon Pays - Six Degrees

Ehad Wad As Idja
Terakaft - Kel Tamesheq - World Village
Democratie
Tartit - Festival Au Desert - Timbuktu
Wa Oyan A Wa Imouss I Bastila
Etran Finatawa - The Sahara Sessions - World Music Network

Eldam
Etran Finatawa - The Sahara Sessions - World Music Network

Ahewalan
Etran Finatawa - The Sahara Sessions - World Music Network

Issuad
Etran Finatawa - The Sahara Sessions - World Music Network

Ruumi/Ummalee
Ortoudo Bermo et al. - Niger, Wodaabe Fulani: Worso Songs - Inedit
Foulbe Gari
Mamar Kassey - Alatoumi - World Village
Wari
Habib Koite - Festival Au Desert - Timbuktu
Mi Fala
Alpha Yaya Diallo - Djama - Jericho Beach

Hakurujamane
Daby Balde - Introducing - World Music Network
Allah Addu Jam
Baaba Maal - Mi Yeewnii - Palm Pictures
Ana Ana wa Enta Enta
The Idan Raichel Project - Quarter to Six - Cumbancha

Detras De Mi Alma
The Idan Raichel Project - Quarter to Six - Cumbancha

Don't miss Ladysmith Black Mambazo at the Ottawa Jazz Festival this Saturday evening at Dominian Chalmers United Church! www.ottawajazzfestival.com
Uginisil' Ubada
Ladysmith Black Mambazo - Raise Your Spirit HIgher - Heads Up
Lomhlaba Kawunoni
Ladysmith Black Mambazo - Shaka Zulu - Warner