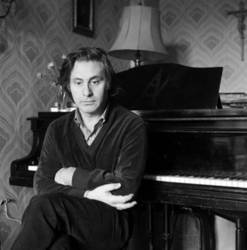 David Dalle
Thursday June 6th, 2013 with David Dalle
Alfred Schnittke's Concerto Grosso No. 4/Symphony No. 5
Today I continue my cycle of the symphonies of Alfred Schnittke with another extraordinarily original piece, his Concerto Grosso No. 4/Symphony No. 5 from 1988. As the unusual title suggests, this work was a combination of two genres which Schnittke was very fond of and represented both his 4th Concerto Grosso and 5th Symphony. As with his preceding polystylistic symphonies Schnittke explores questions of identity and his place in musical history with many layers of meaning, symbolism and allusions. Similar to his 3rd symphony where he looked at several centuries of the German musical canon, in this work he again looks at German musical history, but specifically 2 composers both incredibly important to Schnittke, representing 2 very separate summits in that tradition: Bach and Mahler. Schnittke loved the Concerto Grosso form, very popular in Baroque music, but which became obsolete after Bach with the preference for the solo concerto (which still dominates the classical music stage). Schnittke took Bach's Concerto Grosso (like the famous Brandenburg Concertos) as his model. The Concerto Grosso part of this work is the first movement, a Concerto Grosso for violin, oboe, harpsichord. It follows the strict limits on form imposed by the Baroque concerto, but strongly contrasted with Schnittke's musical language. The Symphonic part of this work are the remaining 3 movements, where Schnittke pays particular homage to Mahler, using literal, musical, and symbolic means. Schnittke found Mahler's music extensively concerned with aging, nostalgia and Proustian remembrance. He juxtaposes these ideas in the 2nd movement with the use of fragments from an early piece by Mahler, his opening movement of an unfinished piano quartet from 1876. The 2nd movement actually originated as a piece for piano quartet meant to act as the 2nd and final piece of Mahler's unfinished quartet. Schnittke enters a dialogue with Mahler by answering subtle fragments from the Mahler quartet with different techniques of Schnittke's musical language, usually in counterpoint with the Mahler, this continue with growing intensity and larger texture until the literal quote from Mahler is played by a piano quartet free of Schnittke's musical context. The 3rd and 4th movement, Schnittke attempts to compose symphonically like Mahler did, particularly from his late symphonies, no. 6, 9, 10 specifically. He doesn't try to imitate Mahler's language, but rather deal with (and oppose) sonata form in the 3rd movement like Mahler did and strive for the open, endless slow ending in the 4th movement like Mahler did in his 9th, 10th symphonies and Das Lied von der Erde. The result is an extraodinary work embodying a burning insightful view of European musical history and its present (in 1980's Soviet Union) from a brilliant mind.
We begin with the single movement from 16 year old Mahler's piano quartet from 1876. The only surviving piece of chamber music by Mahler, which in its dark melodies shows Mahler's inheritance from Schubert and hints of his later symphonies.
Klavierquartett
Gustav Mahler/Gidon Kremer, Oleg Maisenberg, Veronika Hagen, Clemens Hagen - Kremerata Musica - Deutsche Grammophon
Concerto Grosso No. 4/Symphony No. 5
Alfred Schnittke/Gothenburg Symphony Orchestra, Neeme Jarvi - The Ten Symphonies - BIS
Maxutu
Kocani Orkestar - l'orient est rouge - Crammed
Sara
Taraf de Haidouks & Kocani Orkestar - Band of Gypsies 2 - Crammed
Boliviana
Ibrahim Ferrer - Buenos Hermanos - Nonesuch
Como Sera Manana
Polo Montanez - Guajiro natural - Lusafrica
The Skydiggers are headlining at the free Westfest this Saturday evening.
Just Before The Rain
The Skydiggers - Restless - Flood Ross

Horseshoe Bay
The Skydiggers - Bitter Sweet Harmony - MapleMusic

Big Parade
The Lumineers - The Lumineers - Dualtone
Tis Agapis Sou To Risko
Goran Bregovic and his Wedding and Funeral Band - Alkohol - Wrasse
Into/Cororo/Branjski Cocek/Nikolin Cocek
Boban Markovic Orkestar - Live in Belgrade - Piranha