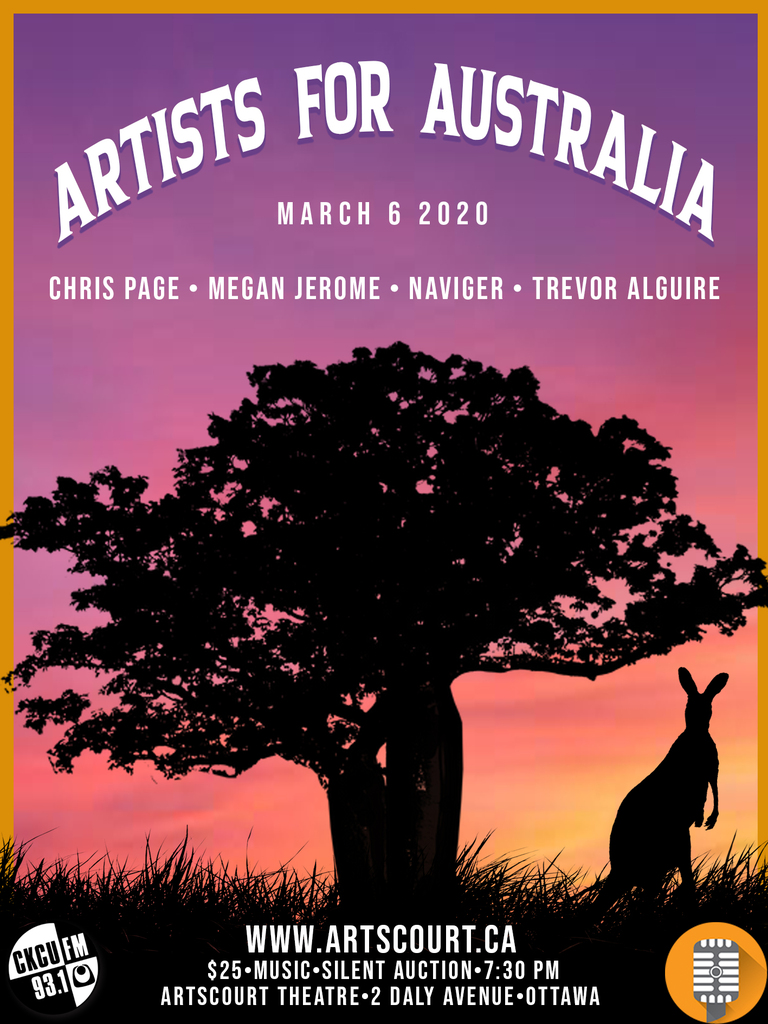 Thursday Special Blend
Thursday February 27th, 2020 with Jeff Larocque - filling in
SNOWMAGEDDON 2020?? Featuring Danielle Allard, Renee Landry and Trevor Alguire w Artists For Australia
Artists For Australia, coming to ArtsCourt on Friday, March 6, 2020 will contribute to relief efforts through two worthy charities: the Rural Fire Service of New South Wales, which coordinates volunteer firefighting efforts across that state; and WIRES, the Wildlife Information, Rescue and Education Service of New South Wales. WIRES volunteers have rescued thousands of animals from the fires. There will be an incredible silent auction at this event as well.
I Love You I'm Crazy
Cee Lawrence - This One's For Me


Island
Danielle Allard - Passing Notes

Breaking Down
RedFox - Recovery

I'm A Sleeper
Andrea Simms-Karp - Sleeper

Like a Boss
Renee Landry - Like a Boss

Renee Landry & the Cool, w special guest Danielle Allard will be performing at Irene's Pub this Friday, February 28. Doors at 8:30pm. Show at 9:30. Tickets $16.50 in advance.
https://www.eventbrite.ca/e/renee-landry-the-cool-with-special-guest-danielle-allard-tickets-88165514427
100 Days, 100 Nights
Sharon Jones & The Dap-Kings - Give The People What They Want
The Barrel Boys will be performing at the Manotick United Church on Saturday, February 29. Tickets are $20 adults / $10 youth www.harmonyconcerts.ca
Thanks to Tim O'Reilly for calling in this morning.
Housebound Blues
The Barrel Boys - Early On

Reckless Daydreams
Trevor Alguire - Reckless Daydreams

Be sure to purchase your tickets in advance for Artists for Australia featuring Trevor Alguire, Megan Jerome, Chris Page & Naviger coming to ArtsCourt Theatre, 2 Daly Avenue

Tickets are $25, available through the Arts Court website: https://artscourt.ca/
Find out more about Trevor Alguire at his website: www.Trevoralguire.com - and if you don't make it to ArtsCourt next Friday, Trevor has just been added to the lineup this summer at Kemptville Live
Two Birds
Trevor Alguire - As of Yesterday

My Sweet Rosetta
Trevor Alguire - Perish In The Light