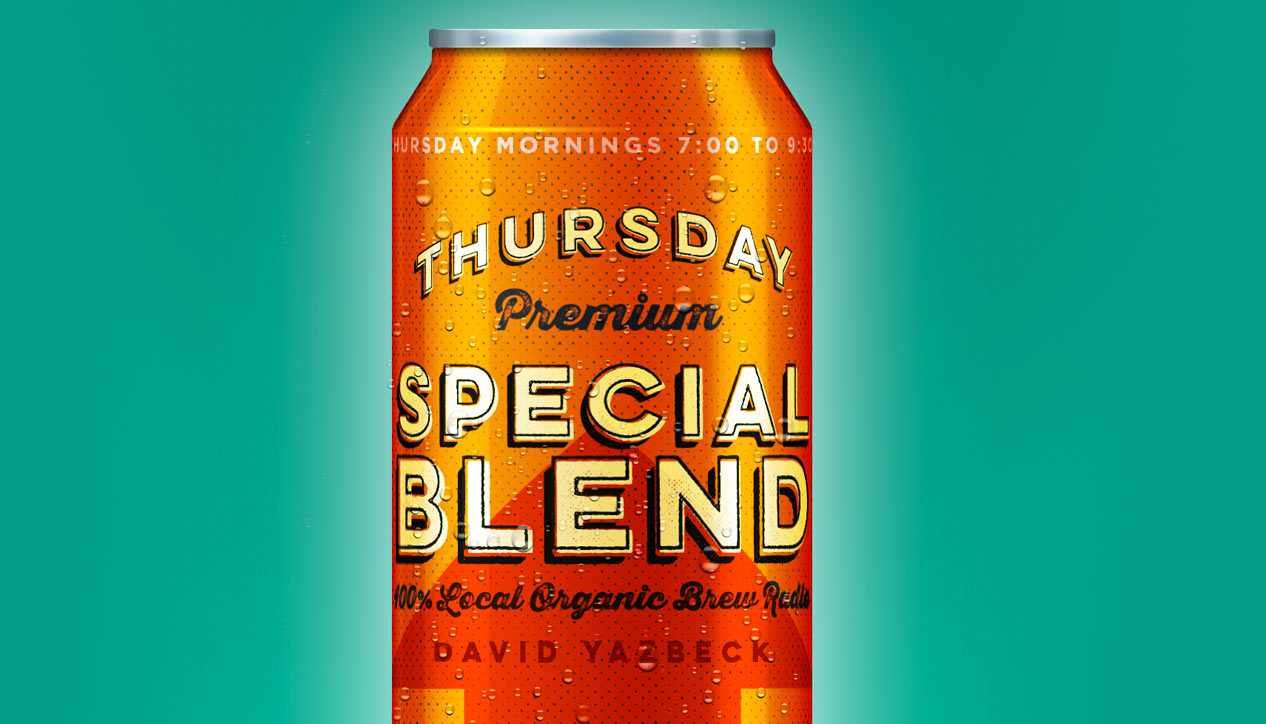 Thursday Special Blend David Yazbeck
Thursday November 3rd, 2016 with Matthew Crosier
Funding Drive Show # 2
Interview with Don Grant, Executive Director Ottawa Centre EccoDistrict, Greenest Capital Challenge. Tuesday November 15, from 8am-9:30 am at Impact Hub Ottawa 71 Bank Street, 6th Floor. The Ottawa Centre EcoDistrict & Students from the University of Ottawa will be talking about the Greenest Capital Challenge. Panelists include: Meredith Brown (Ottawa RiverKeeper), Graham Saul (Ecology Ottawa), Tobi Nussbaum (Ottawa City Council). http://ottawaecodistrict.org/2016/09/greenest-capital-challenge/
Small Town
Julie Corrigan - The Language

Interview with Guy Laflamme Chair 2017 Juno Awards Host Committee & Executive Director of the Ottawa 2017 Bureau. Juno Microgrant Initiative, a new one-time funding program that will enable the capital's musicians, promoters and other music entrepreneurs to develop and present unique musical experiences throughout the city in early 2017. . A total of $30,000 in project funding is available. Events will be funded at a minimum of $500 and up to a maximum of $2000 each. All events must take place within one of Ottawa's 23 wards. Events must be held between January 1 2017 and March 26, 2017. Application deadline, Wednesday November 30, 2016. www.ottawa2017.ca/JUNO.
Money (That's What I Want)
Etta James - Rocks the House
It Comes In Like A Lion
Julia Lee - Kansas City Blues
Interview with Jess Tomlin, Executive Director of The MATCH Fund. MATCH Up, Ottawa's second annual feminist human library November 9, 2016, Jean Pigott Place The event will bring together Feminist Groundbreakers from the region to discuss current issues and common interests with women and men from the community. Guests will have the opportunity to sign-up at the event to engage in one-on-one conversations with our Feminist Groundbreakers. http://matchinternational.org/events-campaigns/
Accidentally Like A Martyr
Warren Zevon - Best Of
Interview with Eleanor Crowder, actor, writer and director. Gladstone presentation of "Jacques Brel is Alive & Well and Living in Paris". Plays at the Gladstone Nov 2-12. http://www.thegladstone.ca/jacques-brel-is-alive-and-well-and-living-in-paris/
Interview with Kasia Majewski, Nature symposium at Canadian Museum of Nature, Nov 8 and Nov 9, with keynote by author Richard Louv on nature deficit disorder. Kicking off the event is a keynote talk on November 8 by American author Richard Louv, "nature deficit disorder". Louv's latest book is Vitamin N: The essential guide to a Nature-Rich Life. On November 9, the public can attend a full-day (9:00 am to 4:30 pm) symposium called Nature Scene. Highlights include panels, hands-on activities, and info booths.
o Guest speakers for the Health and Nature panel include: Moderator: Lisa Glithero (University of Ottawa); Dr. Mark Tremblay (CHEO, Healthy Active Living and Obesity Research); Elizabeth Nisbet (Trent University); Jacob Rodenburg, co-author of The Big Book of Nature Activities: A Year-Round Guide to Outdoor Learning; Tim O'Loan (Forum for Young Canadians) and Cheryl Charles (Children & Nature Network). The panel on Urban People and Nature will feature Alex MacDonald (Nature Canada) and Giancarlo Mangone (Carleton University). Concurrent sessions with hands-on activities to stimulate interest in learning about nature, inspire creative ways to capture the wonders of nature (through photography or other means) and encourage appreciation for different perspectives. Participants can look forward to a makerspace (University of Ottawa's Maker Mobile), educational and art stations, and an indigenous walking tour led by artist Jamie Koebel. The registration fee for the Nov. 9 symposium is $50 (lunch is provided). For registration information, visit nature.ca.

The Museum is located at 240 McLeod Street in Ottawa.
In the Light of the Magical Moon
T. Rex - A Beard of Stars