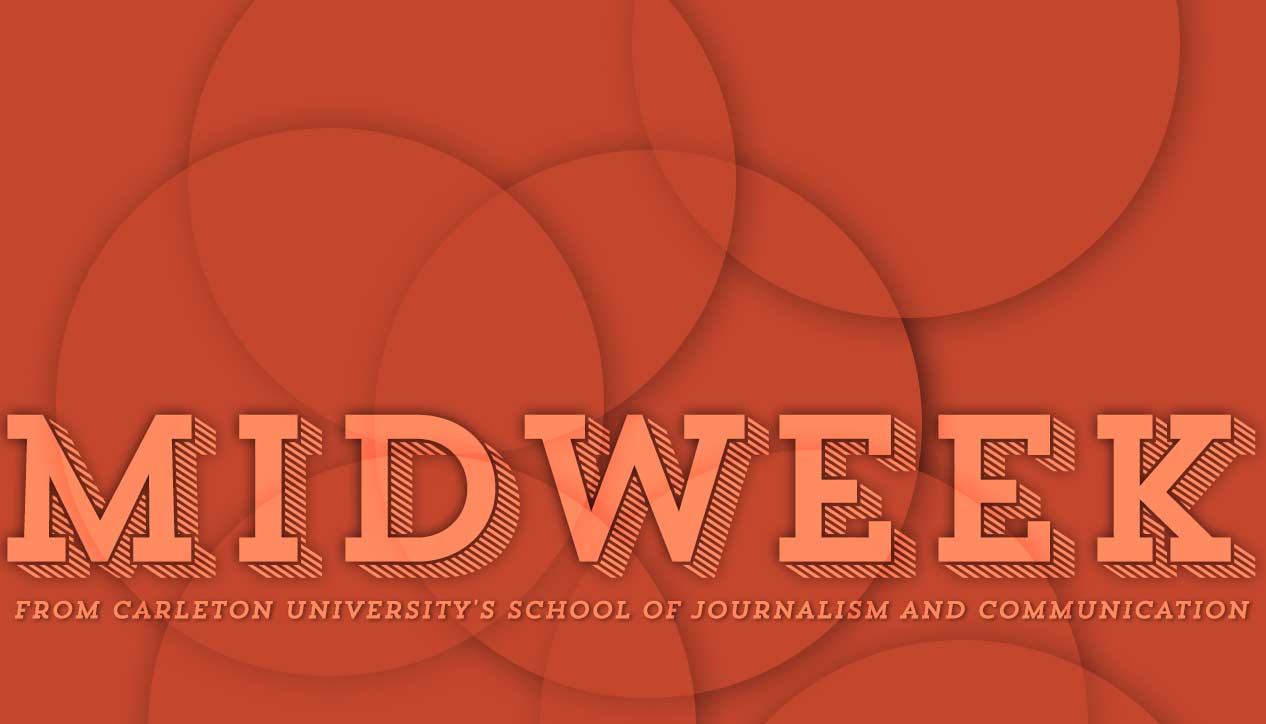 Midweek
Wednesday September 25th, 2019 with Katharine Sherwood and Melanie Ritchot
Fall 2019 - Episode 1
And we're off! Or…on! On air, that is! The Midweek team got its first show of this season on air on CKCU with hardly a hitch (and a lot of hard work), with stories ranging from violence in schools and secrets of the universe all the way to flea markets and therapy pups. The growing problem of violence within schools isn't just between classmates, but also from students towards teachers. Erica Endemann walked us through a new report saying more than half of teachers in Ontario have been hit or abused by their students, and whether anything is being done about it. Julia Wilkes checked in on cuts to the Ontario Student Assistance program and how they're affecting one music student at Carleton University as the reality of debt looms large in his future, and we also found out how students at the other end of careers are learning in retirement at Carleton. The latest election bombshell: can Justin Trudeau recover from the blackface and brownface scandals that have rocked an already heated contest? The Midweek team hit the streets of Ottawa to find mixed reactions to the scandal. Our reporter Katharine Sherwood took us to the final 613 flea market of the summer season as fall sets in to preview a busy holiday season for Ottawa vendors, and we also heard from Midweek's Holly Maass about a campaign to boost confidence in girls age nine to 16 happening at Ottawa's St. Laurent Centre. Speaking of helping others, we got up close to the therapy dogs now helping university students deal with pressures — and found out how a cannabis success is sharing the wealth in Smiths Falls by promoting tourism. We heard from filmmaker and ice sculptor Chris Dainty about a stop-motion film using ice sculptures that was four years in the making, and about what a Carleton graduate finds so moving about the beauty and art on display at Ottawa's animation this year. Some pictures can be moving and stay still at the same time, as Justine Ricketts found out from a local chalk artist whose specialty is reproducing the classical renaissance masterpieces of Leonardo da Vinci. And some art these days isn't…really…there — except virtually, as we found out when we visited an exhibition of Indigenous futurism at the National Arts Centre. The future is coming and lots of it will be VERY real, so youth are organizing. The Climate Strike was a couple of days away as we went to air, and we heard from students at Carleton University as they prepared signs for the event and weighed the gravity of the challenges ahead. What's the matter with reporter Devon Platana? Well, it's dark… Devon gave us the scoop on dark matter with help from expert Daniel Stolarski on the eve of his presentation at the latest science café at Carleton University — and Midweek's Claire Duncan spoke Carleton prof Pamela Wolff about how presentations like Stolarski's at the science cafés are attempting to make the incredibly complex a bit easier to grasp as scientific realities increasingly crowd the headlines. All that and a whole lot more on this first Midweek of the season — with even more to come!
There are no tracks in this playlist.