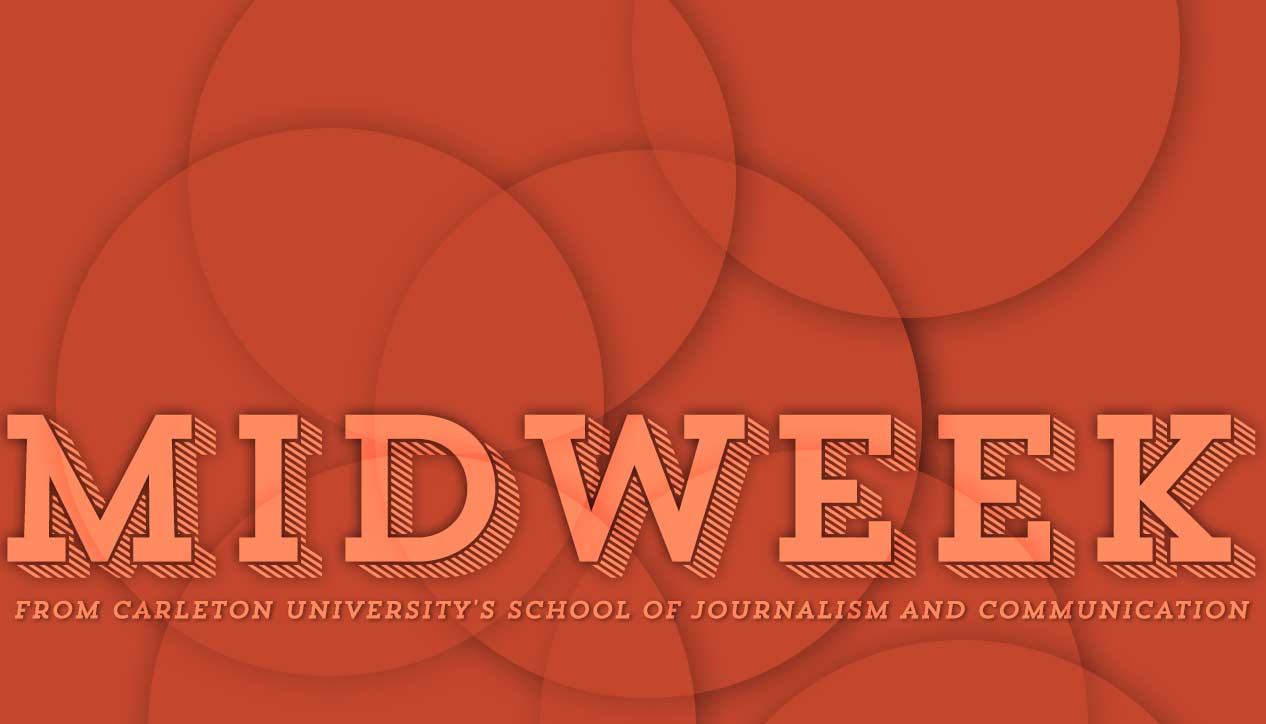 Midweek
Wednesday February 14th, 2018 with Carolos Verde and Kaylyn Whibbs
This Valentine's Day wasn't all about chocolate and romance in the Midweek studio, though producer Kaillin Fisher (above) made sure to sprinkle in a few of the classics for good measure.
Instead of passing out candygrams, our reporters came back from the streets with stories about the struggles of women in politics, vintage arcade gaming, and tales of tasty beer in another, far-off frigid capital. Carlos Verde kept it cool with his story about hockey, while Maddy Hadfield turned up the heat with her piece on the popular fat-burning keto diet. If you're thinking about hopping on the keto bandwagon, you should probably listen to this show first to get the run down on the science behind ketosis and what symptoms to expect from the "keto flu." Reporter Shalu Mehta took listeners to the Art House Café with its incredible artwork and tasty tea options. Metha spoke with artists, art-admirers and after-hours beverage drinkers as the Café by day transforms into Bar 555 by night. Another Ottawa bar option caters to the '90s child in all of us… well, some of us. Located in the Byward Market, Room 104 is home to a wide range of old-school arcade games and drink deals that keep customers getting their Donkey Kong on for hours. As Midweek's Noah Richardson reported, they even have a jukebox that will interrupt the DJ so you can turn up that throwback tune without having to wait your turn. As promised, a few dashes of cinnamon hearts and rom-coms do make an appearance, as Midweek reporters heard from Carleton students about their favourite Valentine's day candies, movies and more…plus their valentine to libraries and the books within them. Keep an ear out for these surprise Valentines Day interludes throughout the show. Speaking of interludes, local artist Kelsey Hayes is still waiting to hear back from Bluesfest about whether she might get the chance to make an appearance at this year's festival. Midweek chatted with Hayes live on the show about the lack of female artists in the the 2018 lineup, and what this might mean. Keegan Hughes meanwhile attended a panel of veteran politicians who as women want obstacles lowered that prevent more promising female candidates from coming forward. They make the point that a first step towards picturing yourself in a position of power is seeming someone who looks like you already there — and for young women, there's too little of that still. One meaning that was literally spelled out for listeners was the Icelandic name of the brewery in Reykjavik that serves the country's world class beer. Lauren Sproule spoke with High-Son-of-a-King-God-of-Thunder-Son-of-a-Plow (the translation of the Icelandic name of a gentleman otherwise known as Hakon Thor Hagalen Posson) about what the beer means to Icelandic folk — and in the interests of journalistic thoroughness she gave it a try herself. Tune in to hear the review! On the sadder, sombre side, Midweek reporters covered protests over the not-guilty verdict in the Saskatchewan trial of the farmer charged with murder in the shooting of Colten Boushie. We also spoke with those looking forward from this case towards what they insist needs to change and how they'll work to change it. Finally, the show wrapped up with Shauna McGinn's trip to a horse therapy stable where individuals suffering from anxiety, depression or post-traumatic stress disorder can find healing through equestrian expressions of their symptoms. All that and much more on this week's show — so turn up the volume, pour a tea (or Icelandic ale) and settle in for another episode of Midweek, our own kind of valentine to the world's current affairs!
We Find Love
Daniel Ceasar - Fruedian

Offred
Dan Mangan and Blacksmith - Club Meds

Quarters
Lost Cousins - Single

Full Throttle (Du Tonc Remix)
Muneshine (feat DARCYS) - Single