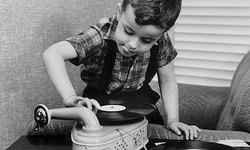 Midweek
Wednesday January 14th, 2015 with PeterB
Don't know what I was thinking. Perhaps I was not …
Some theme wandering today, that loosely holds together, hopefully. A chunk of Radiohead, a pile of remixes and collabs. Plus dysfunctional clowns. Lots of Tricky and Björk too, for whatever reason. Guess I'm just on a kick.
Radiohead! And things that seem to go well.
No Surprises [Radiohead Cover, Live]
Regina Spektor / Radiohead - MP3 / YouTube
Machine
Regina Spektor - Far
Fast-Track
Radiohead - Amnesiac [Bonus Disc]
I Had a Dream (feat. Francesca Belmonte)
Tricky - Adrian Thaws
15 Step
Radiohead - In Rainbows
Exchange
Massive Attack - Mezzanine
No Surprises
Radiohead - OK Computer
Some Remixes, Re-takes and Collabs…
I Am an Ape
David Byrne & St. Vincent - Love This Giant
Yoga
Nearly God [aka Tricky] / Björk - Nearly God
Ancestors
Tanya Tagaq / Björk - Sinaa

Crystalline (Matthew Herbert Remix)
Björk / Matthew Herbert - Bastards
Rude Profile (Pan Agnostix Flamenco-Step remix)
Fleck & Fish Finger - Generation Bass Presents: Transnational Dubstep
Ask the Dragon (Ween Remix)
Yoko Ono / Ween - Rising Mixes
Sabotage (Alex Metric Re-Edit)
Alex Metric / Beastie Boys - Soundcloud
Dreaming of scary, dysfunctional, angry clowns?? Don't blame me!
My Clown's On Fire
The Lounge Lizards - No Pain For Cakes
Cold Wind Blowin'
David Lynch - The Big Dream
Pinky's Dream (feat. Karen O)
David Lynch - Crazy Clown Time
Give Me My Anger Back (Fatboy Slim Cut)
Psychedeliasmith / Fatboy Slim - On the Floor at the Boutique
Happy Band
Mr. Scruff - Xen Cuts (Disc 3)