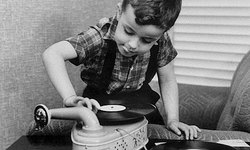 Midweek
Wednesday December 10th, 2014 with PeterB
Just a whole lota great tunes!
PeterB hosts today, and the usual theme wandering mayhem ensues. From Canadian crafts, to heavy productions, to just plain loud. Tune in, and stay a while!
Let's do some Arts and Crafts, shall we?
Anti-Pioneer
Feist - Metals

Day of the Kid
Broken Social Scene x Years - Arts & Crafts: X

Bizarre Love Triangle
Apostle of Hustle x Zeus - Arts & Crafts: X

Era
Still Life Still x Zulu Winter - Arts & Crafts: X

Deathcock
Broken Social Scene - Arts & Crafts: 2003-2013

And now, on to some plush sounds…
The Amazing Sounds of Orgy
Radiohead - Amnesiac (Bonus Disc)
Sour Sour Times
Portishead - Glory Times
Stretch (You Are All Right)
Tortoise - It's All Around You
Video Girl
FKA Twigs - LP1
DBF
Eno - Hyde - High Life
No Surprises (Live)
Regina Spector / Radiohead - YouTube
Changing gears, and upping the pace. Turn it up!
Precious
Pretenders - Live In London
Pissbags and Tubing
Mike Watt - The Secondman's Middle Stand
Calvin
Jon Spencer Blues Explosion - Acme
Talk About the Blues
Jon Spencer Blues Explosion - Acme
Soundtrack to Mary
Soul Coughing - Irresistible Bliss
Exit, stage left.
The Silence Pt 1
Close Talker - Flux