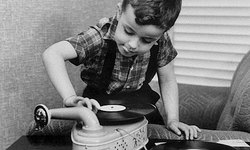 Midweek
Wednesday July 2nd, 2014 with PeterB
Loosely connected theme wandering.
Today's adventure features a few more highlights from the totally fantastic Ottawa JazzFest this year, some local heroes, and more than a bit of randomness. It could get loud towards the end!
A mellow and yet really intense set to start. Wrapped around still more fantistic shows from this year's Ottawa JazzFest. JUST HOLY WOW!!
My Buffalo Girl
Bill Frasell - Good Dog, Happy Man
Warrior
Hiromi - Alive
Adoration of the Earth - The Augurs of Spring
The Bad Plus / Igor Stravinsky - Right of Spring
New Afro Spanish Generation
Buika - En Mi Piel (in my skin)
Some more from Arts and Crafts 10 year anniversary.
I Want a New Drug
Apostle of Hustle - Arts and Crafts 2003 - 2013

You! Me! Dancing!
Los Campesinos! - Arts and Crafts 2003 - 2013

Saccharin and the War
Ra Ra Riot - Arts and Crafts 2003 - 2013

Rock/funk/punk -ish set! TURN UP THE VOLUME NOW! Really, a LOT!! Fasten your seatbelts.
We All Scream
Five Alarm Funk - ABANDONEARTH


- newscast -
Five Alarm Funk - ABANDONEARTH


Journey to the Center of the Earth
Five Alarm Funk - ABANDONEARTH


Shut the Door
Fugazi - Repeater
Wake Up
Rage Against The Machine - Rage Against The Machine
Super Bon Bon
Soul Coughing - Irresistible Bliss
4 Out Of 5
Soul Coughing - Irresistible Bliss
Talk About The Blues
Jon Spencer Blues Explosion - Acme
Exit, stage left…
Se Tu Lutas Tu Conquistas
Somos Nos A Justica (trans: "We are in the justice") - Rough Guide to Brazilian Hip-Hop