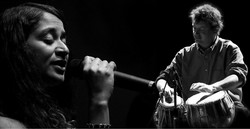 Midweek
Wednesday June 11th, 2014 with PeterB
Upcoming 2014 Ottawa JazzFest and other local highlights. And some loosely connected theme wandering.
The summer music fest season is upon us! This session wanders around some very exciting performances upcoming, especially at 2014 Ottawa JazzFest (June 20 - July 1). And, some random gear shifting too.
OTTAWA JAZZFEST opening night, June 20th! Eastern Fusion galore! And A Tribe Callled Red, at WestFest, too.
ottawajazzfestival.com/
http://www.westfest.ca/
Chennai Five-0 (live)
Autorickshaw - Live and Unreleased

The Trouble With Hari
Autorickshaw - The Humours Of Autorickshaw


Shavateynu Kabel
Jaffa Road - Where The Light Gets In

Panj Bindiyaan
DJ Rekha - Basement Bangara (YouTube)
Sisters (ft. Northern Voice)
A Tribe Called Red - Nation II Nation

Some more selfish JazzFest picks.
Thing Of Gold (groundUP)
Snarky Puppy - YouTube
Comfortably Numb
The Bad Plus (feat. Wendy Lewis) - For All I Care
Desire
Hiromi - The Trio Project
Surfer Girl / Guitar In The Space Age
Bill Frisell - 12 Days of Fretboard (YouTube)
Slow Baby
Black Dub / Daniel Lanois - Black Dub

Redsteps CD release party, June 28 at Cameron House in Toronto.
http://www.redsteps.ca/
Borrowed Time
Redsteps - Redsteps


Red Dye
Redsteps - Redsteps


And now, some randomness …
Carabou
Tanya Tagaq - Animism


Mouth's Cradle (w. Tanya Tagaq & The Icelandic Choir)
Björk - Medúlla
Rest Your head
Bat For Lashes - The Haunted Man