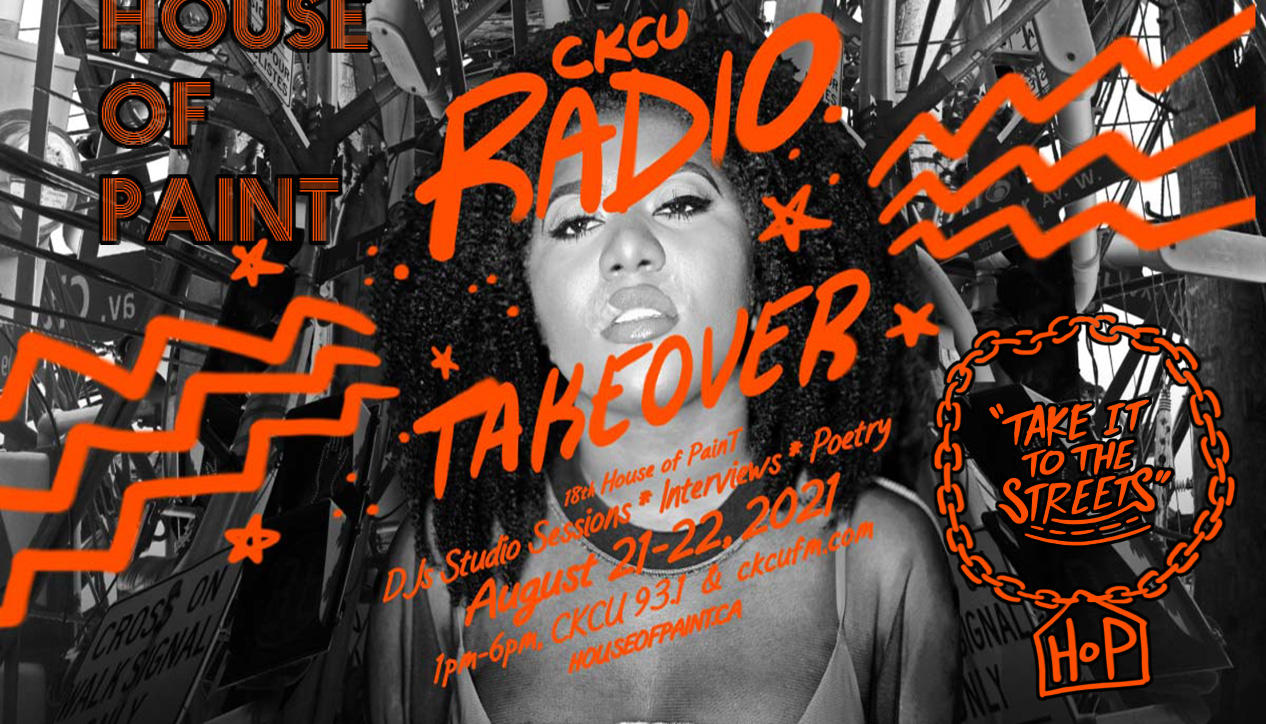 Saturday, August 21st & Sunday, August 22nd 1PM – 6PM CKCU Radio Take Over
This program is not currently airing on CKCU.
Performances by: Asuquomo / Dioganhdih / Exmiranda / Eyeda Sophia / Five and Tens / Hueso / Jesse Dangerously / DJ JFun / Kmbrly Snstrm / Lunafhy / Squerl Noir / Trevor Walker + OG500 Virtual Poetry Slam! ...and re-added...Mohammad Ali, Socialist Vocalist! (On Demand only) but also SO MUCH MORE!! check out: houseofpaint.ca FB link to the event: https://fb.me/e/IaGG0A0Q
On August 21 and 22nd from 1-6PM (Sunday 1-7PM) each day, House of PainT is taking it to the airwaves to bring you an array of musical artistry in this collaboration with CKCU. (see press release below logo)

With studio sessions, DJ sets and interviews from emerging and established talent, The Action starts at 1PM on Saturday, and will conclude at 7PM on Sunday

Le 21 et 22 août, vous retrouverez House of PainT sur les ondes radios pour vous offrir un éventail de talents musicaux dans le cadre d'une collaboration avec CKCU.

Avec des sessions en studio, des sets de DJs et des entrevues avec des talents émergents et établis, on commence le samedi 21 août (13h), et ca termine a 19h le dimanche . CKCU vous fera profiter de toute l'action audio dont vous avez besoin.
but also SO MUCH MORE!! check out: houseofpaint.ca
FB link to the event: https://fb.me/e/IaGG0A0Q

Featuring/En vedette:

ASUQUOMO
Dioganhdih
Exmiranda
Eyeda Sophia
Fives and Tens
Hueso
Jesse Dangerously
DJ JFUN
Kmbrly Snstrm
Lunafhy
Squerl Noir
DJ Trevor Walker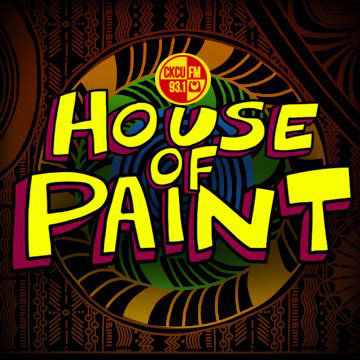 House of PainT Festival Premieres New Music and Short Film Night August 21-22
Ottawa's House of PainT festival takes to the air waves and screens this weekend to premiere new music and present hip hop to audiences in ways that are safe, fun and accessible. Hip Hop fans and music lovers are invited to tune in to community radio station CKCU Saturday and Sunday afternoons for a Radio Takeover featuring music by artists from diverse backgrounds representing the vibrant sounds and influences of hip hop music. The festival will close out the weekend festivities on Sunday, August 22nd with a screening of fifteen videos in English and French by artists from Ottawa and beyond, offered both in-person at Club SAW (67 Nicholas St., Ottawa) and online at houseofpaint.ca.
"Even with the possibility of COVID-19 restrictions easing up over the summer, it was important for House of PainT to provide new ways for people to take part in the festival this year that are fun and respect public health guidelines." says Production Coordinator Zoe Mallett. "Our Radio Takeover on CKCU this weekend offers listeners an opportunity to tune in from wherever they feel most comfortable, while our Short Film Night can be experienced from home or in a community setting, with friends, family and popcorn."
The festival's music programming on CKCU, airing from 1pm to 6pm on Saturday and Sunday, will include DJ sets as well as unreleased and recent music by a roster of talented artists, including two spirit Mohawk producer, lyricist and sound designer Dioganhdih's self produced beat project called "Chasin All My Demons". In the 35 min set, the artist will deliver new bars, fresh freestyles, familiar remixed hooks and even the eloquent reciting of poetic Instagram captions. Also taking to the air on CKCU this weekend is West African Canadian rapper and singer-songwriter Exmiranda, who recently amassed over 26K views on a Tik Tok duet with famed hip hop artist Ludacris while rapping with a mouth full of peanut butter. The festival is excited to deliver this accessible, entertaining, and free music programming that listeners can tune into via radio at 93.1 FM in Ottawa or steam live on-demand at ckcufm.com
Another first for the festival this year is House of PainT's Short Film Night on Sunday, August 22nd, featuring a screening of videos by local and regional artists that celebrate artistic expression, community connections, and raise awareness about important issues, such as challenging racism and other forms of discrimination. The showcase of fifteen shorts includes works submitted as part of the festival's inaugural call for submissions of short films, music videos and cinepoems as well as videos curated by the festival to further showcase both English and French creative content. One of those videos is "Malewa", a recently released music video in which young rapper Jay Jay pays tribute to his mother's restaurant in Limoilou, Quebec. While the Short Film Night is scheduled to take place in person at Club SAW (67 Nicholas St., Ottawa, doors at 7:30pm), it will also be broadcast digitally starting at 8pm, allowing those who are at home an opportunity to join in.
House of PainT will be keeping the Summer vibes going strong into September with free pop-up dance happenings taking place in four Ottawa neighbourhoods, one each Friday in September. These happenings will feature dance battles, cyphers, and other arts programming designed to meet Ottawa residents where they are, bringing urban arts outside of the downtown core to spread the love of dance to further-flung parts of the city.
To stay connected and up to date with House of PainT, follow us on Facebook @HouseofPainTFestival as well as Twitter, Instagram and Tik Tok @houseofpaint.
House of Paint Festival is Ottawa's annual Hip Hop festival showcasing the best in Canadian urban arts and culture.
♥    ♥    ♥

Subscribe to House of PainT Takeover!