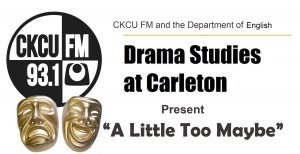 Tuesday Special Blend
Tuesday November 2nd, 2021 with CKCU & Carleton Drama Studies
A Little Too Maybe Part One
Like a record scratching to a stop, in-person classes at Carleton University came to an abrupt halt in March 2020. Six months later Rachel Stanley, Jadi Genita, and Drew Torresan, all enrolled in a theatre production seminar, found themselves facing a challenge. The main assignment was to create and perform a play, but due to pandemic restrictions, they would not be able to meet to write and rehearse, let alone stage a show in front of a live audience. Thankfully, Prof. Janne Cleveland, who co-ordinates the University's Drama Studies program, and instructor Rebecca Benson contacted CKCU FM and found a unique solution. The result — A Little Too Maybe, Carleton's first-ever radio play, about a couple falling out of love —will air on the campus-based community station CKCU, along with a three-part documentary about how the project came together. A Little Too Maybe: A Pandemic Radio Play' is a three-part radio documentary series produced by Dylan Hunter, story produced and written by Nickie Shobeiry, narrated by John Koensgen, with music by Diego Guzman.
There are no tracks in this playlist.