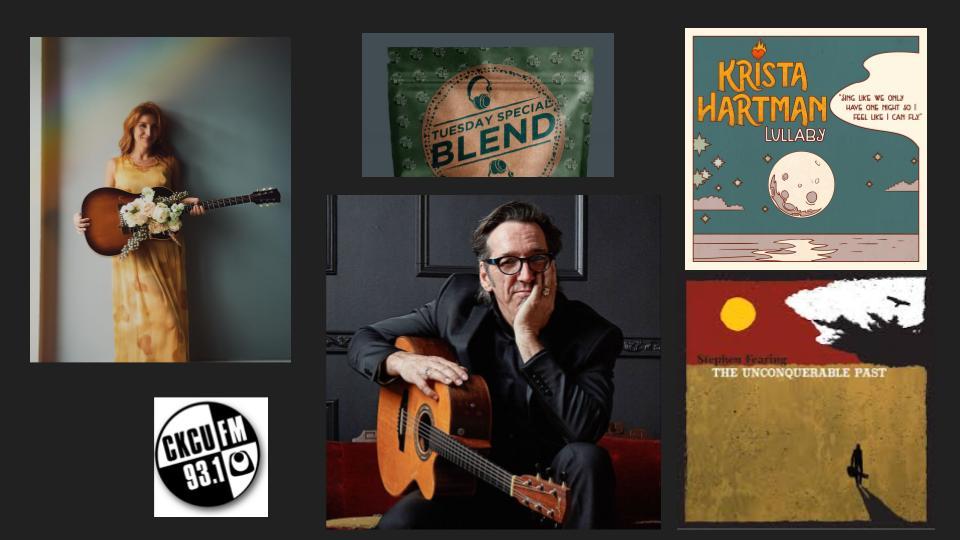 Tuesday Special Blend
Tuesday February 9th, 2021 with Jeff Larocque & Christophe Elie
Special guests today: Krista Hartman and Stephen Fearing
Welcome to our newest #TuesdaySpecialBlend team member, Wafa El-Rayes. CU Journalism student and #CommunityRadio #Volunteer
Cutting So Fine (Show Theme)
Paul Anthony/Canada High - Canada High (Working Title)

Lullaby (release date February 10, 2021)
Krista Hartman - Transcend


Find and Follow Krista Hartman here: https://kristahartman.ca/
Get info on upcoming shows: https://www.facebook.com/krista.hartman.75
Pick up some Krista Hartman music here via her #Bandcamp link: https://kristahartman.bandcamp.com/
"Lullaby," Krista Hartman
Single Release Date: February 10th, 2021
Krista Hartman's upcoming single, "Lullaby" from her 4th record, Transcend is a happy, up-tempo, and spirited anti-lullaby. The song in itself is a perfect juxtaposition.
Don't forget to join her Valentine's Day Livestream at 9pm eastern.
Trust Yourself
Blackie and the Rodeo Kings - King of This Town (2020)

Come On Train
Blackie and the Rodeo Kings - High or Hurtin': The Songs of Willie P. Bennett (2012)

Blow Hard Nation
Stephen Fearing - Every Soul's a Sailor (2017)

Trump's Tweets
Christophe Elie - Trump's Tweets (single) (2020)

Shakin' All Over
Chad Allen & the Expressions aka The Guess Who - Guess Who? (1965)

Long Walk to Freedom
Stephen Fearing - The Secret Of Climbing (2018)

The Things We Did
Stephen Fearing - Every Soul's a Sailor

Break Our Mother's Heart
Stephen Fearing - The Unconquearable Past (2019)

Join Stephen Fearing's many followers and sign up for his newsfeed here: www.StephenFearing.ca
Check out all the cool items available at his online shop: https://stephenfearing.ca/product-category/shop-cds-vinyl-downloads/
Also, you must watch this video where Stephen Fearing and Linda Manzer chat about his famous Manzer guitar, moderated by Tom Allen. Look for the video entitled "The 30 Year Cowpoke": https://www.youtube.com/StephenFearing63
Finally, if you have $14,000 USD to spare, you could buy the refurbished Manzer 79 we talk about on the show: https://manzer.com/2020/05/for-sale-vintage-rare-1979-manzer/
The Unconquerable Past
Stephen Fearing - The Unconquearable Past (2019)

Reassuring
Blair Michael Hogan - Shit's Gettin' Real (Around Here) (2021)


Congratulations Blair Michael Hogan on the new album that you introduced to the world on February 5, 2021. https://blairmichaelhogan.bandcamp.com/album/shit-s-gettin-weird-around-here